Carmen Leigh Keates
Bergman Week 2016
Carmen Leigh Keates is an Australian poet whose work frequently draws on film. She returned to Gotland and Fårö this year (2016) after a brief visit in 2013 in connection to her PhD. Her first full poetry collection will be published in November 2016 by Whitmore Press.

All photos below are © C. L. Keates — click small images for larger versions.


The annual Bergmanveckan festival was held on Fårö, Sweden from 27th June–3rd July 2016, with this year marking two very important cinematic anniversaries associated with this part of the world: 50 years since the release of Bergman's Persona; and 30 years since the shooting of Tarkovsky's Offret (The Sacrifice) at Närsholmen, a location only about an hour's drive away on the east coast of Gotland.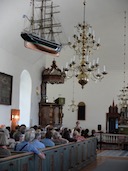 The opening ceremony in Fårö kyrka (the church in whose grounds Bergman now rests) included a tribute to Tarkovsky by Russian photographer Viktoria Ivlevla, who had been shocked when she visited Närsholmen the year before to discover that there was no signage or other memorial to mark that this was where one of the greatest directors in the world made his last film.
With the help of her Swedish friend, photographer Ulla Tillgren, Viktoria set about trying to find Gotland locals who had been connected to the Tarkovsky shoot. As well as finding people who had worked on set, Viktoria and Ulla heard from those who worked in hotels, catering, and other practical services, and a number of these individuals were present at another event in the middle of Bergman Week, a joyful and moving ceremony at Närsholmen itself.
About 60-70 people gathered at this place, which is now a bird sanctuary grazed by cattle, to share anecdotes, give first-person accounts of the shoot — including the notoriously catastrophic incident of Sven Nyqvist's camera jamming during the filming of the Offret house burning down — and to place an impressive banner marking the cinematic significance of this location.
Also in attendance at Bergmanveckan was film producer Katinka Farago, who in her early career was the original Bergman 'script girl'. In her interview held at the Bergman Centre on Fårö, Farago spoke of her time as producer on the Offret shoot, emphasizing the emotional exhaustion Andrei Tarkovsky experienced during this time due to his separation from his family who were in Russia and not permitted to join him abroad.
As well as the burning house and the jammed camera incident, which Farago said left the crew in tears and eager to rebuild the set immediately, she also recounted another event involving actor Erland Josephson that illustrated the atmospheric circumstances of the shoot. Josephson was being filmed delivering a very long monologue; suddenly, Tarkovsky was approached by an assistant and swiftly left the room. The lead actor continued on and finished his scene without his director there to watch it. The scene was not re-shot. Afterwards, Josephson was somewhat shaken and mystified by what had happened. Later, the crew was to find out that Tarkovsky had had the opportunity to speak on the phone with his young son. Farago used this anecdote to impress upon us the sense of anguish Tarkovsky must have been persevering through during this last shoot.

Image Captions (left to right, top to bottom):
The banner at Närsholmen.
Speaking to the crowd at Närsholmen.
Katinka Farago in conversation.
Ivlevla and Tillgren with Närsholmen lighthouse (see 10th July 1985 reference here) in the background.
Crowd at Närsholmen 1.
Crowd at Närsholmen 2.