Monday, July 11, 2022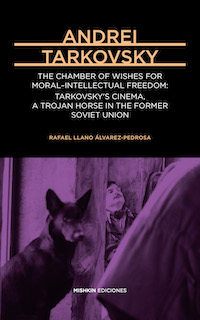 We are pleased to note that there is now an English (Kindle) edition of Dr. Rafael Llano's impressive Tarkovsky tome, Andréi Tarkovski. Vida y obra, heretofore only available in Spanish (print edition).
The Table of Contents of the English edition can be viewed here.
Book Description:
Tarkovsky is one of the most admired, analyzed and criticized film directors from the late 20th century to the present day. And this happens despite the fact that he directed only seven feature films: 5 produced by the former Soviet Union, another with the RAI and the last one as an exile. This remarkable achievement demanded a 360º biography to address the conception, production and distribution of each of his films, in the context of the political and cultural conditions in which his artistic vocation was born and developed. To achieve this, Llano has gathered almost all the interviews and articles given or published by Tarkovsky outside the former Soviet Union. This documentation has allowed him to complete, and in many cases criticize, the views and the image that the official or semi-official Soviet media poured out about Tarkovsky and his work.
The artistic and intellectual aims of the artist who, from 1983 until his death, had to suffer exile, are scrutinized in this book in the context of the tradition of Soviet cinema as well as in the great Russian intellectual tradition. Tarkovsky's name is associated here with those of Pushkin, Gogol, Dostoyevsky, Tsvetaeva and, of course, with that of Arseni Tarkovsky, the filmmaker's father and his link with the cultural tradition of that country.
This is the Russian filmmaker's first cultural biography, narrated in a cinematographic, cultural and socio-political key, allowing the reader to understand and enjoy his films even more.
The book was originally published in Spain and has been endorsed by three editions (2003, 2006, 2017). It won The Círculo de Escritores Cinematográficos Award for the best critical contribution to cinema, 2003. A full illustrated edition of the book is available in a paper version by Mishkin Ediciones (Madrid, Spain), in Spanish, with an Introduction by Spanish filmmaker Victor Erice and a text by Erland Josephson.
More about the Author is found here.

Thursday, November 4, 2021

The event Tarkovskij and the trascendent in film is currently underway in Rome, Italy. It goes until December 19, 2021. The event Catalogue, in Italian, is found here.
We wish to thank Dr. Filippo Schillaci for this update. He also recently submitted some important updates to our film locations of Nostalghia page.

We recently received a message from Matteo Mottin, curator of the Italian art project Treti Galaxie. He writes:
"I wanted to share with you our recent project called "Endless Nostalghia", an online art exhibition dedicated to Our Beloved. Last October, between lockdowns, we staged exhibitions of major Italian artists in the same locations where Tarkovskij shot Nostalghia. We believed that the feelings of loss everyone experienced during this strange time we're living in are very similar to the ones that Tarkovskij experienced after leaving Russia for good. You can find the documentation, made both of digital and analogue b/w photographs, on endlessnostalghia.com. It's an 'endless' website. At every visit it changes, and when you reach its end it is 'reborn' differently, with different pictures, texts and fonts."
Please do check out endlessnostalghia.com. We here at Nostalghia.com find this 'infinite' website – clearly a labour of love – to be highly impressive!

Thursday, October 7, 2021

It is encouraging and refreshing to witness a new generation of artists emerge which draws inspiration from the work of Andrei Tarkovsky. We recently ran across the work of JULIA GERDNER, and in particular her powerful multimedia work PIETÀ/SOLARIS.
We asked Ms. Gerdner to say some words about her work and herself:
"I was twelve years old when music came to me for the first time. Then, five years passed until music came again, and yet another five before I could finalize the song that made the cycle feel complete. The project has been accompanied by the works of Andrei Tarkovsky, who is my number one artist and main inspirational source. One song in particular has been inspired by Solaris, and could also be said to revolve around themes of memory, nostalgia, alienation and loss.
My name is Julia Gerdner and I am a 23 year old literature student in Stockholm, Sweden. I made this video as an ode to the director who brought me spiritual and creative salvation, and hope that it can bring pleasure to fellow Tarkovsky devotees."
Also check out the other videos on her YouTube Channel.

Wednesday, December 16, 2020

We are saddened to note the recent passing of Alexander Gordon, husband of Marina Tarkovsky, Andrei's brother-in-law, as well as Sven Wollter, the urbane Victor in The Sacrifice, as well as a dear friend of our site, Tarkovsky scholar Robert Bird.

Friday, September 27, 2019

There will be a Tarkovsky retrospective held in Chicago next month. It will run Sundays, October 6 to December 8, 2019 at Doc Films, The University of Chicago, U.S.A. The retrospective is titled The Man Who Saw the Angel: Andrei Tarkovsky, and the programme is found here. Thanks to programmer (and longtime Nostalghia.com visitor), Brian VandenBos, for the heads-up.

Selected excerpts from Tarkovsky's Diaries have been published in the Kachhi language, spoken in Western India. The printed book was published in 2007 and its e-book version was released in 2014. You may access it here. Many thanks to the translator, Manilal Gala, for letting us know. Kachhi title is Kar mInjoto Kar. Publisher is Vadhod, 86 pages.

Thursday, February 7, 2019

Soviet composer Vyacheslav Aleksandrovich Ovchinnikov died in Moscow on the 4th of February 2019, as reported by Kino Art (article in Russian). He was 82 years old. The article says, in part, "On the 4th of February 2019 in Moscow the soviet composer Viacheslav Ovchinnikov passed away. He was 82 years old. Ovchinnikov created music for the outstanding soviet films of 1960s and 1970s. He wrote the music for the first film by Andrei Tarkovsky The Steamroller and the Violin, and then for Ivan's Childhood and Andrei Rublev. He also worked with Sergei Bondarchuk (War and Peace, They Fought for Their Motherland), Gennady Shpalikov (the only Shpalikov film, A Long and Happy Life), Andrei Konchalovsky (early short The Boy and the Dove, then the feature films The First Teacher and Nest of Gentlefolk). The film scholar Vyacheslav Shmyrow wrote about him: "It would suffice to say that only being a student of Moscow conservatory he won the fantastic casting — the right to make music for Bondarchuk's 8 hour epic War And Peace (there still would come Step and They Fought for Their Motherland. [...]. There she is, Russia, one forgotten genius more, one less... Today is still one more less." (Excuse the hasty translation).
Thanks to Alex Asp for the tip.





©2004 www.nostalghia.com
All Rights Reserved