Thursday, February 7, 2019

Soviet composer Vyacheslav Aleksandrovich Ovchinnikov died in Moscow on the 4th of February 2019, as reported by Kino Art (article in Russian). He was 82 years old. The article says, in part, "On the 4th of February 2019 in Moscow the soviet composer Viacheslav Ovchinnikov passed away. He was 82 years old. Ovchinnikov created music for the outstanding soviet films of 1960s and 1970s. He wrote the music for the first film by Andrei Tarkovsky The Steamroller and the Violin, and then for Ivan's Childhood and Andrei Rublev. He also worked with Sergei Bondarchuk (War and Peace, They Fought for Their Motherland), Gennady Shpalikov (the only Shpalikov film, A Long and Happy Life), Andrei Konchalovsky (early short The Boy and the Dove, then the feature films The First Teacher and Nest of Gentlefolk). The film scholar Vyacheslav Shmyrow wrote about him: "It would suffice to say that only being a student of Moscow conservatory he won the fantastic casting — the right to make music for Bondarchuk's 8 hour epic War And Peace (there still would come Step and They Fought for Their Motherland. [...]. There she is, Russia, one forgotten genius more, one less... Today is still one more less." (Excuse the hasty translation).
Thanks to Alex Asp for the tip.

Thursday, May 17, 2018

Here is a transcript of a short but insightful interview with Michal Leszczylowski conducted by Dmitry Trakovsky following a screening of Dmitry's documentary Meeting Andrei Tarkovsky in New York City. Thanks to Father Paul Anel for the pointer, as well as for his kind comment: "By the way, thanks for all your good work in service Tarkovsky's work on nostalghia.com. I would also like to mention that is thanks to your website that I got to know Dmitry, and that besides being now good friends, we do all we can to promote Tarkovsky in New York City." Keep it up, guys!
Following Stalker in 2009, the University Press of Potsdam has also edited a transcript (protocol) of Nostalghia in the original Italian version. A Russian and a German translation of the dialogue are added and – cut by cut – a commentary by Norbert P. Franz. The last pages contain film stills and photos of the locations taken 30 years after the production. A PDF version of the book is freely available.The book is also available in print version (Franz, Norbert P. [ed.]: Nostalghia. UdSSR/Italien, 1983. Regie: Andrej Tarkovskij, Protokoll des Films, Übersetzung der Dialoge. Potsdam: Universitätsverlag, 2015. 130 p.).



Wedensday, May 16, 2018

We'd like to call you attention to the event TARKOVSKY: CINEMA OF DREAMS SYMPOSIUM, scheduled for Thursday, May 17 at the Edinburgh Napier University. The event celebrates the launch of the website-archive behind the making of Louise Milne and Sean Martins feature length documentary of the same title.



Friday, January 13, 2017


The Friends of the Andrei Tarkovsky International Institute has announced a complete Tarkovsky retrospective (restored copies) as well as a symposium, The artistic legacy of Andrei Tarkovsky (1986-2016), 18 to 29 January 2017 in Florence, Italy. More information here: Retrospective programme | Convention programme | Poster | Retrospective poster | Event Poster.
Carmen Leigh Keates' Tarkovsky/Bergman-inspired debut poetry collection is now available from Whitmore Press. We've read it, and it comes highly recommended. Her poems are perceptive, meditative and subtle, so deftly rendered that no explanation of their "meaning" is offered nor required.
Filippo Schillaci has provided us with some great research into the shooting locations of Nostalghia. Check it out prior to planning your next trip to Italy.
There's a remarkably well-programmed Tarkovsky-retrospective taking place in Belo Horizonte, Brazil, January 20 to February 9, 2017. Invited lectures are given by Michal Leszczylowski, Robert Bird, Miriam Chiara, Evgeny Tsymbal, Dmitry Salynski and others. See the full programme here (PDF). Here is the festival poster.



Saturday, October 8, 2016


Several important news items to catch up on after an extraordinarily busy summer for your humble webmaster, to whom nostalghia.com remains a hobby-project (since 1997), taking second-seat to running an aerospace corporation as well as bringing up three amazing children. Thank you all for your patience and understanding.
First up, is Dr. Carmen L. Keates' wonderful report from Bergman Week 2016. Click the small thumbnail images for larger versions.


Tuesday, May 17, 2016
Starting on May 20, there will be a nationwide UK showing of Tarkovsky's work. From the rather impressive website, "Screening from pristine new digital prints, the Russian auteur's seven films will be showing at selected cinemas across the UK and Ireland from 20 May. Accompanied by newly commissioned posters, trailers, essays and short films, as well as a series of talks and events taking place around the country, Sculpting Time will examine these classic titles through a contemporary lens, introducing new audiences to these timeless cinematic landmarks." Thanks to Jon Alsop for the heads-up!
There is a new, interesting article in Cinephilia & Beyond, A Unique Perspective On The Making Of Stalker — The Testimony Of A Mechanic Toiling Away Under Tarkovsky's Guidance. Many thanks to Tiffany L. and Andreas Brehmer for notifying us!
The Bergman Centre on Fårö, Sweden have plans to mark the 30th anniversary of Tarkovsky shooting his last film, The Sacrifice, by screening the film during Bergman Week (27 June to 3 July) outdoors(!) in the very location it was filmed: Närsholmen, the stage-like isthmus on the east coast of Gotland. Thanks to Carmen Leigh Keates for the information!
Curzon/Artificial Eye, UK, are releasing the following Tarkovsky films on Blu Ray disc, Region B/2, this year: Ivan's Childhood (April 11), Andrei Rublev (174 min version, April 25), Mirror (May 9), Solaris (May 23), Stalker (June 13), Nostalgia (June 27), and The Sacrifice (July 11). Thanks to Mark Doyle of Seattle for letting us know!


Sunday, March 13, 2016
Our readers may find Terence McSweeney's newly published book, Beyond the Frame: The Films and Film Theory of Andrei Tarkovsky, to be of interest. More details on this academic study of Tarkovsky's films and his theory of film may be found here.
Site reader Ricardo Messina kindly pointed us to his comprehensive Guide to Tarkovsky Film Soundtracks.
Check out Andrei Tarkovsky's Solaris Shot by Shot: A 22-Minute Breakdown of the Director's Filmmaking.
Here are 17 scenes from The Revenant shown alongside scenes from Andrei Tarkovsky's films. Plagiarism or homage, we don't know, but cinematographer Emmanuel Lubezki continues to impress us.
Shameless plug: The documentary short film Magnetic Reconnection, co-produced and -shot by yours truly is now available on iTunes in most regions, and also DRM-free through Vimeo. Narrated by actor/musician Will Oldham, and original score by Grammy Award winning musician Jim O'Rourke.


Saturday, December 12, 2015
A seven-week course dedicated to the exploration of Tarkovsky's filmography is being conducted at the Freud Museum in London, England. This teaching series is spearheaded by Montreal cinephile Mary Wild, in partnership with Cygnnet Publishing.
Check out Masterclass with Andrei Tarkovsky: Cinema is a Mosaic Made of Time in the excellent Cinephilia & Beyond.
Here is a recent Film Comment interview with Susan Howe. Highly recommended.


Saturday, August 22, 2015
Recently published by the excellent London-based publisher Cygnnet, is a book entitled Costumes for the Films of Andrei Tarkovsky by Nelli Fomina, Tarkovsky's longtime costume designer. We have had the chance to study the book first-hand and are thoroughly impressed! For example, Nelli's photos from the set of Stalker, as well as her reminiscences, provide crucial new insights into the creation of the film, insights not found anywhere else, to the best of our knowledge. A video tour of the book can be found here. The book is bilingual, Russian and English. We consider it a vital addition to the library of any discerning Tarkovsky collector. This first (and perhaps only) edition of the book is published in a limited edition of only 150 copies, so get it while you can. (This is the same publisher who brought you the equally essential book Andrei Tarkovsky: A Photographic Chronicle of The Making of The Sacrifice by Layla Alexander-Garrett). Some photos of Nelli's book, below. Click for larger versions.

Saturday, April 4, 2015 • BIRTHDAY AND EASTER EDITION
An English subtitled version of Kerstin Eriksdotter's 1990 documentary On the scenography of Tarkovski's Sacrifice is now available here. Thanks, Charles!
We are excited to inform you about an excellent new publication recently published by Tate. Poetry and Film explores the creative relationship between Arsenii and Andrei Tarkovsky and includes some newly translated poetry. The compilation is by Kitty Hunter Blair, whose previous translations include Andrei Tarkovsky's Sculpting in Time and Time Within Time: The Diaries 1970-1986. We have had the pleasure of reading the book, and it comes highly recommended by us at Nostalghia.com. The book is available through Amazon, and more information may be found in this pamphlet.
This photo was taken exactly 30 years ago today, at Filmhuset, Stockholm, during preparations to shoot Offret. Click for larger version. Happy birthday, Andrei! (More on this Swedish Easter tradition, here).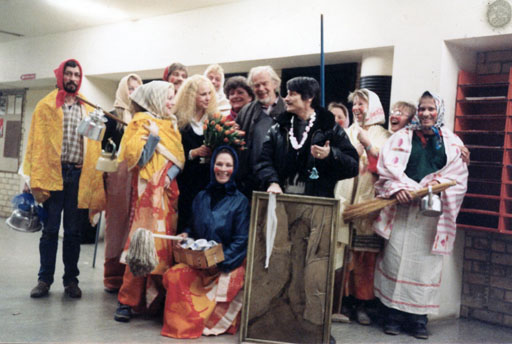 Friday, October 3, 2014
At the New York Institute for the Humanities, following the publication of Geoff Dyer's Zona in March 2012, they screened Stalker and occasionally interrupted it with a panel discussion featuring Dyer himself, Walter Murch, Dana Stevens from Slate and a couple of others. The whole panel section is available here. It's pretty absorbing, and 120 minutes long. Thanks to Richard Sales for the pointer!


Tuesday, September 16, 2014
An article on costumes and scenery in Solaris (Thanks, Arkady P.!).
A report from the set of Stalker.
Since we last updated our News column, the following have regrettably passed away: Donatas Banionis (90), Vadim Yusov (84), and Sos Sargsyan (84).
Mihai Vacariu has written a book on Tarkovsky, In love with Tarkovsky — A small treatise on living art, which has been published in Romania by the Adenium Publishing House. Russian and English translations are forthcoming. [The above link is no longer working, the archived page is here.]
Video artist Jeff Alu has created an hour-long movie influenced by Tarkovsky, One of Tarkovsky's Dreams.
Last but not least, please watch Manuele Cecconello's stunning meditation Eterna melancholia


Saturday, June 8, 2013
A brand new print of Nostalghia is currently screening at the Brooklyn Academy of Music (BAM), New York City. Only a few days left — act now! (Thanks, Wayne Lovan). The print will eventually make its way to other cities: It's coming to International House Philadelphia in August. It will hit Portland, OR on August 16–17, and apparently Cleveland as well. More details as we get them. (Thanks, Alex M. and Herb S.).
The 7th Andrei Tarkovsky International Film Festival is commencing on June 11, in Ivanovo, Russia. Lars-Olof Löthwall, in collaboration with Nostalghia.com, has helped facilitate an exhibition of (and a printed publication containing) Lars-Olof's remarkable photos from the set of The Sacrifice, in high resolution.
Here is a photo album by Nikolay Alhazov of Tallinn. During the recent Tarkovsky Days, he organized an expedition into The Zone which included Evgeny Tsymbal, second assistant on Stalker. Thanks, Layla Alexander-Garrett! Some of Layla's own photos can be seen here.
Last, but not least, don't forget to support the Tarkovsky: Time Within Time Kickstarter Campaign!

Thursday, May 16, 2013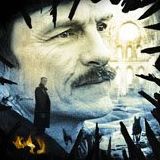 Some of our readers may recall the interesting clip we posted a while back, Tonino Guerra on Andrei Tarkovsky. This is actually an excerpt from an upcoming documentary by PJ Letofsky called Tarkovsky: Time Within Time. A Kickstarter campaign is currently underway to help fund the final stages of the project. Check it out here!


Thursday, November 22, 2012 — ANDREI TARKOVSKY 80TH ANNIVERSARY YEAR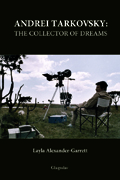 Further to our July 7, 2011 news update, an English version of Layla Alexander-Garrett's book Andrei Tarkovsky: The Collector of Dreams is being published on December 20 by Glagoslav Publications, an independent British-Dutch imprint. Says the book's blurb, "The Sacrifice is Andrei Tarkovsky's final masterpiece. The film was shot in Sweden, in summer 1985 while Tarkovsky was in exile; it turned out to be his final testament, urging each individual to take personal responsibility for everything that happens in the world. Day after day, while the film was being made, Layla Alexander-Garrett — Tarkovsky's on-site interpreter — kept a diary which forms the basis of her book Andrei Tarkovsky: The Collector Of Dreams. In this book the great director is portrayed as a real, living person: tormented, happy, inexhaustibly kind but at times harsh, unrelenting, conscience-stricken and artistically unfulfilled. 'Don't ever be afraid of the pronoun I,' Andrei exhorted, 'Write only what it is that you feel'". The full details on this soon-to-be-released English edition is found here. An English-language review by Vera Liber of the earlier Russian edition of Layla's book is found here. Thanks to Layla, Max Mendor, Yana Kovalskaya, and Jeff Compton for the heads-up.
Layla Alexander-Garrett's photo exhibition recently traveled to Moscow (Solzhenitsyn Foundation) and is currently in Basel. The Basel Programmheft is a keeper.
Evgeny Borzov's film Andrei Tarkovsky: The Collector of Dreams was screened at the Sao Paulo International Film Festival. See also our February 18, 2012 news update.
A video reportage on the recent London exhibition Mirror and Pomegranate, mentioned in our October 20 update, is found here (Russian).


Friday, November 2, 2012 — ANDREI TARKOVSKY 80TH ANNIVERSARY YEAR
Schirmer/Mosel Verlag has published an English edition of its monograph on Tarkovsky. UPDATE 2012-11-08: We have obtained a copy of the book and will post some further details shortly.

Saturday, October 20, 2012 — ANDREI TARKOVSKY 80TH ANNIVERSARY YEAR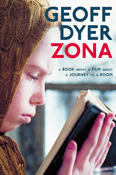 We have recently posted a review by John A. Riley of Geoff Dyer's book Zona.
A Russian-language review of Geoff Dyer's Zona by Mikhail Lemkhin can be found here.
The Sacrifice will be screening on the weekend of November 23, 2012 at 5th Ave Cinema in Portland, Oregon. 35mm print. Thanks to Alex M. for the heads-up.
From a recent exhibition in St. Petersburg, check out this video clip, In the Footsteps of Tarkovsky. Thanks, Layla!
Layla Alexander-Garrett spent some time in New York this summer. Oleg Sulkin met with her, and wrote this article [Google-translated version]. Layla's play Gaspard de la Nuit premiered in NYC on 19 June 2012. Some reviews of her play are found here.


Please follow ("Like") the Official Facebook Page of the Andrei Tarkovsky International Institute in order to stay abreast of current Tarkovsky-related events. This valuable resource already has almost 10,000 followers.
There is an interesting event dedicated to Tarkovsky next month in Basel, Switzerland. The title is Im Spiegel Andrej Tarkwoskij. Dates are 2 November — 2 December. There will be several exhibitions, art-performances, concerts, workshops, and invited guests. Thanks Anastasia Alexandrova and Burkhard Walther for informing us of this event.
Check out Reid Rosefelt's classic blog post on working with Tarkovsky on the American release of Nostalghia.
There is a new book out by the inimitable Seweryn Kusmierczyk. Nostalghia.com's Jan B. is curently in Warsaw, chatting with Seweryn. More details when he returns.
There is an article on the late Chris Marker by Juan Carlos Romero, here.
An exhibition is currently underway in London, England dedicated to the close friendship of Andrey Tarkovsky and Sergei Parajanov. More information here.
Ben Frost and Daniel Bjarnason has recently been performing a concept work called Solaris together with the Sinfonietta Cracovia. There is some more informationa and a Trailer here. Thanks Dolf M.!
The book Tarkovsky by Nathan Dunne has been re-released in paperback format. So, no need to buy used hardcover versions for GBP 100-400 any more. Thanks to Anders M. for letting us know!
Tarkovsky Polaroids.
Longime site visitor and friend Keith Rose has recently finished his new album, Myasnoye, and has updated his site with a preview track and some interesting (Tarkovsky related) liner notes, here. Check it out! In addition, Keith's CD First Station has now been released through the Essentia Mundi record label.
Letter from a frequent German site visitor (includes Italian-language PDF link):

Dear Dr. Trondsen,

I am a more or less regular reader of your excellent website! Here in Germany, 
Andrei Tarkovsky's birthday was nowhere mentioned. Whereas Peter Greenaway 70th, 
also yesterday, received some coverage, but he is still alive. I wrote recently 
an article in an Italian cultural magazine Nuova Umanità nuovaumanita.cittanuova.it/, 
in which I chose to make an in-depth analysis of three scenes, one from Andrei Rublov, 
one from Mirror and one from Nostalghia. In one of your last postings you provided 
a link with an article by a British scholar, John A. Riley, who elucidated on brevity 
in Tarkovsky's cinema. The first scene I analyse is during the raid in Vladimir, the 
two white geese descending in slow motion over the pillaged crowd. It lasts few seconds 
constituting an image in Tarkovsky's intention unifying contrasting aspects. In Mirror 
I analyse the opening sequence: the encounter between the mother on the fence and the 
doctor on the way to Tomshino. In Nostalghia it's on Domenico and his act of self-destruction 
in Rome on the world-famous piazza del Campidoglio. There will be no English version anytime 
soon, but I know you link also to articles in other languages. Keep up the good work!

Peter Seifert

Links related to Tarkovsky 80th anniversary (Russian) — thanks Layla!
Current Camera 18/04/2012
One Summer Night in Sweden
Meetings with Tarkovsky
Tarkovsky: The Last Movie
On Estonian Russia theater
Meetings with Tarkovsky in the Russian theater – behind the scenes
Information from the State Solyanka Gallery in Moscow
Article in Hebrew, in The Epoch Times, about Tarkovsky.
Check out this film, Sacrifices of Tarkovsky, shown on Russian television in commemoration of Tarkovsky's anniversary. The film is in Russian. Thanks to Iulia for the link!
Yours truly (Trond) will be in Hollywood at the American Film Institute Fest 2012 representing as co-producer and -cinematographer of the film Magnetic Reconnection (Dir.: Kyle Armstrong, 2012). I hope to meet some of you at the event – please email me at Newsdesk if you want to hook up. The film will have its East Coast premiere in NYC on November 10 at the Imagine Science Films film festival. The film's Trailer can be seen here.

Wednesday, April 4, 2012 — ANDREI TARKOVSKY 80TH ANNIVERSARY YEAR


Today is what would have been Andrei Tarkovsky's 80th birthday. Events are being mounted around the world this year to celebrate the life and legacy of the great auteur. The Friends of Andrei Tarkovsky Society has sent out this newsletter, which contains some very interesting information about upcoming events and projects (scroll down the PDF for an English version).
Frequent site contributor Yevgeny Borzov has provided us with the program of the International Andrei Tarkovsky Memorial Days in Ivanovo, Russia: Russian Page 1 | Russian Page 2 | English Page 1 | English Page 2. Today features the Russian premiere of a new Spanish documentary on Tarkovsky (see the program), in which Tonino Guerra is interviewed for his collaboration with Andrei in Nostalghia. Special attention will be given to Tonino's recent passing.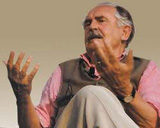 Tonino Guerra unfortunately passed away on March 21. Here is an excerpt from Voyage in Time featuring Tonino and Andrei.
Director PJ Letofsky is currently working on a documentary entitled Tarkovsky: His God, His Devil. During its production, PJ had the chance to interview Tonino. He has made this small excerpt available to us via YouTube: Tonino Guerra on Andrei Tarkovsky.
Documentary filmmaker PJ Letofsky is looking for any rare Tarkovsky photos our readers might have, especially from Myasnoye, the Tarkovsky family country home. Please contact Newsdesk if you have something you might be willing to share for the upcoming documentary Tarkovsky: His God, His Devil. PJ hopes to wrap it all up by the end of this year.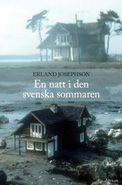 The Swedish publisher Atrium Förlag continues their remarkable string of Tarkovsky-related book releases. We call your attention first to the late Erland Josephson's book En natt i den svenska sommaren (A Night in the Swedish Summer). On December 21, 2002, we posted the following news item: "En natt i den svenska sommaren, currently playing at Dramaten, Stockholm, has been very well received by critics and audiences alike. The play, directed by Eva Bergman, is based upon the 1985 shooting of The Sacrifice at Fårö. The scenario: A Swedish film crew by the seaside, waiting for The Russian to make up his mind. The cast is waiting, the producer is agonizing, the interpreter is interpreting, the budget slowly evaporating. The Russian is also waiting... waiting for dark, that elusive darkness hiding somewhere behind the summer light, a darkness that doesn't seem to come... Says Erland, in a piece he wrote for the programme booklet, 'It takes courage to shoot. It takes courage to wait.'" We also note that the stage play had its German premiere in 2011. An article on the German version, Eine Nacht im schwedischen Sommer, can be found here.
This new book, recently released by Atrium, includes the complete script to the original stage play, a fascinating essay by Erland about his work with Tarkovsky on Nostalghia and Offret, as well as a CD of the Swedish Radio (SR) radio theater version, featuring music by Wendy Carlos and Bach.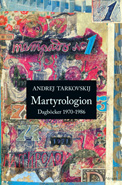 Further, today is Atrium's official release date for the Swedish translation of the Tarkovsky diaries, Martyrologion: Dagböcker 1970-1986. The Swedish translation is based on the Russian 2008 issue. However, translator Håkan Lövgren and editor Christo Burman also had access to, and made use of, additional new material that will be released in a Russian edition only later this year. This Swedish edition thus appears to be the most complete edition to date (at 960 pages including foreword, notes, index). You may have a peek inside the book by clicking this link.
On April 29, at 4 pm, the Stockholm Cinemateket will be screening Mirror. The screening will be introduced by Professor Astrid Söderbergh Widding and Fil. Dr. Christo Burman. They will also introduce and discuss the newly released (by Atrium) Swedish translation of the Tarkovsky diaries, Martyrologion: Dagböcker 1970-1986.
Film historian Jean Douchet on Andrei Tarkovsky. Also see additional links on the right hand side of the same page.
Please check out site reader Jukka Eronen's excellent Finnish Andrei Tarkovsky Archives.
Speaking of Finland, a decade ago, we received the following email from a site visitor. If anyone knows where we may obtain a copy of this Finnish documentary (also mentioned in our Documentaries section), please do let us know.


The documentary on Tarkovsky was made in 1978. Its name is Responsibility of 
the Artist, and was originally made as a double portrait on Tarkovsky and 
another Russian filmmaker Vassily Chukchin, but now I consider it only as a 
documentary on Tarkovsky. Its length is 27', and is made for for Finnish 
commercial tv-company, which is called MTV, in coproduction with Soviet 
TV Gosteleradio. I was its writer and the director is called Risto Maenpaa, 
who has a director's education in Moscow Film Institute (VGIK).

We met Tarkovsky twice. First we met him with his wife and writer Arcady 
Strugatski in Tallinn, Estonia, in summer 1977, when he was shooting Stalker 
(the first time), and second time in March '78, when he was rewriting Stalker 
for the reshooting, (you know he rejected the first version because of technical 
faults in cinematography) when we were actually shooting his interview for our 
film at his office in Mosfilm Studios. By the way, shortly after our interview 
we were planning another session with him, but couldn't do it, because he 
fell ill at heart after his birthday party in beginning of April. That was my 
only personal contact with Tarkovsky.  Our documentary had only inserts from 
Mirror (it was question of artistic line), which we recut very heavily for our 
purposes to illustrate our feelings towards Tarkovsky and what he was saying. 
Together with Risto Maenpaa we also translated Tarkovsky's book Sculpting in 
Time with addition his scenario White White Day for Mirror and his last text 
on Sacrifice that (the text) he completed just few days before his death.

That's my public history with Andrei Tarkovsky. My personal relationship to his 
work is another story, that I'd rather discuss some other time. 

-V



Sunday, March 11, 2012 — ANDREI TARKOVSKY 80TH ANNIVERSARY YEAR
Site reader and Tarkovsky scholar John A. Riley has recently completed his PhD in Tarkovsky entitled Shifting Mirrors: An Intertextual Approach To The Films of Andrei Tarkovsky at Birkbeck College, University of London, under the supervision of Professor Ian Christie. John has also written a fascinating article that discusses Tarkovsky's interest in Polaroid photography and the Haiku, arguing that these tie in with Tarkovsky's latent interest in an an aesthetics of brevity. The article is published on Birkbeck College, University of London's online postgrad arts journal, here.
Glenn Kenny's review of yesterday's Tarkovsky Interruptus event.
Speaking of Geoff Dyer, you may wish to check out his new book, Zona. We hope to bring you a review shortly.
A new, more accurate translation of Roadside Picnic will be published May 1, 2012 (Thanks, Tom!).
Donatella Baglivo writes on a Facebook event page: "From April 4th to 15th, L'associazione Culturale Ciak Villlage organises retrospective and an exhibition of photographs about the Russian director Andreij Tarkovsky. The opening ceremony will take place in Rome, Tor di Quinto 57/B (beside the shooting range) on April 4th at 6 pm. This exhibition was born thanks to the collaboration of Donatella Baglivo with Andreij Tarkovsky on the set he shot Nostalghia (1983). You are all very welcome to this event and we would like you to come and talk about with some friends. This is a really important event for this new born association and we need you to make this evening exceptional. It will be presented by Luigi Di Majo from la RAI.".

Sunday, February 26, 2012 — ANDREI TARKOVSKY 80TH ANNIVERSARY YEAR
Erland Josephson, husband, father, actor on stage and in film, author, playwright, poet, teacher, director, born 15 June 1923; died 25 February 2012. Z"l.
How many of us will remember him, as an actor.
Layla Alexander-Garrett tells us that, in Tallinn on April 20 there will be a performance of Erland's play One Night in the Swedish Summer (on the making of The Sacrifice; see our December 21, 2002 news update). The performance will take place at the Russian Theatre, and it will be dedicated to the memory of the great actor.
Coverage in The Washington Post
Coverage in The New York Times
Video: Liv Ullmann on Erland Josephson
Obituary in The Guardian

Saturday, February 25, 2012 — ANDREI TARKOVSKY 80TH ANNIVERSARY YEAR
The Film Society of Lincoln Center in New York City will be sceening Nostalghia on March 13.
The publisher of Layla Alexander-Garrett's photo book, Andrei Tarkovsky: a Photographic Chronicle of the Making of The Sacrifice, has created this site to promote the book. The book can be purchased through this site. There is also a promotional video. We greatly enjoy our copy, and can highly recommend it. It offers fascinating new insights through photos never before published. The book is an assential addition to any Tarkovsky connoisseur's coffee table. (As a sidenote, the many book collectors among our readers will appreciate the fact that the book will eventually go out of print, and, as we've seen in the past, prices on the Used market tend to lean towards the astronomical. Plan accordingly.)


The Friends of Andrei Tarkovsky Society has announced the release of a Tarkovsky box set on DVD (French subtitles only). See the flyer, here. As can be seen near the bottom of page 2, Dmitry Trakovsky's Meeting Andrei Tarkovsky is included among the supplemental materials. Please support the efforts of the Friends of Andrei Tarkovsky, by using this membership form.
In other DVD and Blu-ray news, here is a Czech-language review of the Russian Mirror on Blu. In Scandinavia, most Tarkovsky titles are published with Norwegian, Danish, Swedish, and Finnish subtitles by Another World Entertainment. The site contains a list of all dealers, here (thanks, Lars!). These are all likely RusCiCo transfers, except Offret which is the excellent SFI transfer. Nostalghia is not among these titles.
Our colleagues in Brazil inform us that the first issue of cadernos de pesquisa kinoruss: TARKOVSKIANAS is now online. Says Kinoruss Editor Neide Jallageas: "Incidentally, this is the first publication in Portuguese on the subject so specific: the Russian cinema. Plus, dedicated to each issue, a Russian filmmaker. It is a series of electronic dossiers. The first issue is dedicated to Tarkovsky and the second number will be dedicated to Sokurov."
Site reader Guido Gräsel noticed that there are 4 missing cards in our Sacrifice Series B and kindly contributed the missing cards. Click below for larger versions. Thanks, Guido!

Saturday, February 18, 2012 — ANDREI TARKOVSKY 80TH ANNIVERSARY YEAR
Some additional information on Layla Alexander-Garrett's photo album, Andrei Tarkovsky: a Photographic Chronicle of the Making of The Sacrifice, can be found here [PDF]. The book can now be ordered through Amazon. Here are some promotional photos provided to us by the publisher [ 1 | 2 | 3 | 4 | 5 | 6 | 7 | 8 ]
Our longtime friend and collaborator, Dr. Yevgeny Borzov of Ivanovo, Russia, sent us the following informative note:

I am pleased to inform you about the latest developments of my cooperative 
project with Layla [Alexander-Garrett]. It started in 2010 when we first 
met here in Ivanovo and turned out quite productive and rewarding. In 
November 2011 it got a national Prize after winning a challenging competition, 
authorized by the Russian Academy of Science and the Ministry of Education 
and Culture. In fact, you can read, listen and watch more about this project 
on my site "Andrei Tarkovsky: The Collector of Dreams".  Sorry this page is 
available only in Russian, but you are welcome to use online translation 
(e.g., translate.google.com) to get an idea of  its content and conception.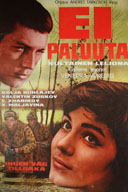 The above mentioned award-winning project based on Layla's book, made by Yevgeny and his students, can be viewed on RuTube, here. Our Bibliography section lists Yevgeny's two previous films. These are now available on RuTube: The Reflected Time and Magnetism of Memory. Finally, there is a Radio RUSSIA special program, featuring The Reflected Time, here.
The rare Finnish Ivan's Childhood poster shown on the left (click for larger version) was contibuted by film editor Jani Ahlstedt, who says "I got lucky and found the original Finnish poster of Ivan's Childhood (Ivanovo detstvo). I bought it and now I have photographed it. Finding Tarkovsky's films was big thing in my life, hope that next generations also can enjoy these wonderful films." Indeed. Thanks, Jani!
As part of the series Geoff Dyer on Tarkovsky, Cinema, and Life, Mr. Dyer will be introducing a screening of Mirror on March 11 at the NYC's Museum of the Moving Image. Thanks to Wayne Lovan for the heads-up!
Site reader Alexander in Russia has kindly provided us with high-quality scans of all the pages of a script of Stalker (he refers to it as "3rd. Edition"). Hand-written annotations by Andrei Tarkovsky can be seen throughout. We asked Alexander how he came into possession of this script, and he told us, "This scenario gave me Olga, the daughter of Larissa, when Andrew was living with her on Mosfilmovskaya street." We post the first 6 pages below. The rest will be posted once possible copyright related issues have been clarified and resolved (if any of our readers have insights pertaining to this situation, please contact us at the Newsdesk). Click the small images for larger versions. Thanks, Alexander — and very special thanks also to Andrew (Tyape) and Olga!
Young Belgian filmmaker Kristof Hoornaert has made a short film called KAIN. Says Kristof, "Andrei Tarkovsky has always been a rich source of inspiration for me: he opened my eyes as a filmmaker. So I thought you might be interested in viewing my film.". Please watch the sublime and thought-provoking KAIN, here.
Dmitry Trakovsky [ website ] has commenced a second film project, a feature-length documentary about the Yup'ik people of southwestern Alaska currently entitled Arctic Cross. He has made a short trailer called Journey into Orthodox Alaska in order to gather support for the longer feature. Check out the trailer here. Also, visit his Kickstarter profile

Thursday, September 15, 2011
Layla Alexander-Garrett's photo book Andrei Tarkovsky: A photo chronicle of making The Sacrifice is coming out in October. The presentation of the book will take place 23 October at the Film Festival Molodost', Kiev, Ukraine. See also our August 31, 2010 news update for a link to an exhibition of some of her photos.

Les Amis de l'Institut International Andrei Tarkovski has announced a concert-reading of Stalker consisting of François Couturier piano improvisations accompanying the reading of the Strugatski novel. The event takes place on September 25, near Paris, France. See the poster. Also, the French version of Dmitry Trakovsky's documentary is now available for purchase. See this flyer (French).

Thursday, August 4, 2011
We recently received the following press release from the UNIONgallery in the U.K.:
"Two paintings inspired by the Andrei Tarkovsky film The Mirror are to be displayed at Union Gallery in Edinburgh during the month of August. Artist Philip Braham, a long-term admirer of Tarkovsky's work has produced two paintings in his new body of work, entitled Still, that are effectively an homage to the film. Braham has taken stills from the film and re-interpreted them to fit the theme of the exhibition: an examination of the influences that have helped to shape his life as a painter and as a man. Philip Braham is one of Scotland's great contemporary talents, working in the media of both paint and photography, and has a justifiable reputation as a major creative force, producing work that is visually stunning, challenging and demanding of the viewer, which fits well with the work of Tarkovsky. The paintings can be viewed at Union Gallery and online at www.uniongallery.co.uk. For more information, please contact the gallery at info@uniongallery.co.uk".
Here is a direct link to Mr. Braham's work. His remarkable Tarkovsky related paintings are Antonine Hill, Oil on Canvas, 122x97cm, and Windyhill Woods, Oil on Canvas, 46x61cm.
Dan Marquart, one of our site visitors, has recently started a blog of original drawings and comments inspired by Tarkovsky's films. We think you'll find them very interesting. Dan writes: "This is a non-commercial site. All my drawings can be right clicked and saved to your computer. I just want to share my admiration for Andrei Tarkovsky with other people who are inspired by him".

Thursday, July 7, 2011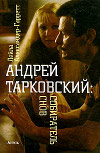 Layla Alexander-Garrett has some good news for readers awaiting English translation of her book Andrei Tarkovsky: Sobiratel' Snov: the book has been translated to English as Andrei Tarkovsky: the Collector of Dreams. But... it still has to find a publisher. This will hopefully happen soon. In the meantime take a look at this review. Another review is available in Russian here.

The book has received the First Prize, "Elephant" ("Slon"), from the Guild of the Film Critics and Film Historians. It was also nominated to Russia's most prestigious prize "Bolshaya Kniga" ("the Big Book").

Layla also had several photo exhibitions related to her work with the director: in Ivanovo (June 2010) and Yurievets (2011) during two Tarkovsky festivals "Mirror" ("Zerkalo"). She also had a big exhibition in the Solyanka State Gallery in Moscow called "The Last Film" ("Posledneye Kino", September 2010). There is a four-part clip of the occasion posted on YouTube (in Russian only): part 1, part 2, part 3, part 4.

On a related note, video frames from the new Blu-ray edition of The Sacrifice can be seen on the DVD Beaver site by following this link (thanks to Jarek Fidala for the pointer).

Friday, May 20, 2011


Here is an online TV reportage covering the Milan Andrej Tarkovskij – L'immagine dell'assoluto event mentioned in our previous news update. (Thanks, Gawan!)

Friday, May 13, 2011


The Friends of Andrei Tarkovsky Society has announced a Tarkovsky event in Milan: an exhibition of photographs followed by a retrospective of all of Tarkovsky's films. The event takes place May 13 to June 12, 2011. Additional details are found here [PDF].
Gary has just posted his review of the Criterion Blu-ray Solaris. Looks absolutely stunning.
Chris Marker's Tarkovsky meditation will be out on DVD in North America on May 24 (amazon link).
Dmitry Trakovsky's film will be included on Artificial Eye's Tarkovsky Collection. Congrats, Dmitry! The collection will be available on May 23.
Sean Martin's book on Tarkovsky has just been reissued in a much nicer format to the original 2006 edition. Better paper, better binding, and it now has colour photos. It's available in the UK now, and will be available in U.S. and Canada in July (amazon link).
The Edward Artemiev soundtrack to Solaris can apparently be accessed here [mp3]. We prefer the uncompressed original CD and vinyl.
The documentary Toscan: The French Touch looks interesting. Says the blurb: Daniel Toscan du Plantier produced over 50 films over the course of his career. He started in advertising and became Deputy Director of Gaumont in 1975, at the age of 35. During his ten-year tenure at Gaumont, he produced filmmakers Werner Herzog ("Nosferatu the Vampyre"), Federico Fellini ("The City of Women"), Ingmar Bergman ("Fanny and Alexander") and Andrei Tarkovsky ("Nostalghia").
New upcoming CD from the Tarkovsky Quartet (Francois Couturier, A Lechner, J-M Larche & J-L Ma) appears to be due out July 26, 2011 (amazon link).
David Sylvian reciting the poem Life, Life by Arseny Tarkovsky, at the Concert For Japan.


Keth Rose and Rebecca Reis-Miller, a.k.a. The Drive to Uqbar, have recently entered into a partnership with the German label Essentia Mundi which will be producing and distributing their music. They will officially launch the album First Station in the coming months. The recent devastation in Japan led Keith and Rebecca to create a compilation with 10 other artists on the Essentia Mundi label to benefit the Red Cross Japan. We here at Nostalghia.com hope that you will consider purchasing this album for a worthwhile cause — details at Essentia Mundi's website. Our readers might wish to especially check out The Drive to Uqbar's own contribution, A Gotland Stroll (Location Hunting).

Wednesday, May 4, 2011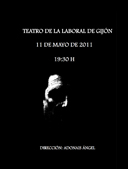 Theatrical director student Adonais Ángel is announcing his theatrical adaptation of The Sacrifice. He writes: "This play is part of the career final project of the Theatrical Direction student at the School of Dramatic Arts of Asturias. I think this play can have a lot of interest for all people that love Tarkovskij's works. The Tarkovsky Foundation is aware of the adaptation, and we have all the permits from the author's heirs".
The Details:
What: Theatrical adaptation of Offret (Sacrificio)
When: Opening night on Wednesday, May 11, 2011 at 19:30
Where: Theater of La Laboral. Gijón, Asturias, Spain
Approximate duration: 2 h 30 min
Language: Spanish
Free admission, everone welcome!
Please see the Director's notes [PDF] for more in-depth information on this adaptation. There is a Facebook page for the event. A PDF version of the event poster, with full cast listing, can be viewed here.

Friday, April 8, 2011

Kino Lorber is scheduled to release The Sacrifice: Remastered Edition on DVD and Blu-ray on June 28. Amazon says, "This new remastered edition of Tarkovsky's final film features a new, much improved transfer of the film in anamorphic widescreen and the first time on Blu-ray. Special features include the feature length documentary 'Directed by Andrei Tarkovsky', a behind the scenes look at one of the most influential directors of our time, photo gallery, trailers and more.". Also see our March 14 news update, our previous look at three versions, and Nykvist's comments on the color reduction employed. We shall have a close look at this new remastered edition when it arrives.

Interesting reflections by Danny Leigh over at the Grauniad, see "The powerful resonances of Andrei Tarkovsky's Stalker".

Fandor has a new piece, "How to Face a Nuclear Apocalypse: The Sacrifice", by Michael Joshua Rowin.

Geoff Dyer's next book to be on Stalker?

Efforts to open a Tarkovsky Museum in Moscow in 2011 are still ongoing, and ramping up.

There is a Tarkovsky retrospective being held at the Museum of Cinema in Moscow. It runs until April 11.

Terrence Malick's The Tree of Life interactive site is up.

Nice piece by Nicolas Rapold on the occasion of the upcoming Vigo event, "Son of Anarchy, Father of a Critic: A Tribute to Jean Vigo at UCLA". On Sunday at UCLA, the Parajanov-Vartanov Institute will honor Vigo with an award and a rare 35mm screening of his best-known works.


Tuesday, April 5, 2011

A comment by Kino International on their Facebook page suggests that they are aiming to release Mirror on Blu-ray in 2012.

Michal Leszczylowski is not scared. See final paragraph of this USA Today piece.


Monday, April 4, 2011

Today would have been Andrei Tarkovsky's 79th birthday.

The BFI just added a Tarkovsky slide to their excellent slide show.

Monday, March 14, 2011


A screening of our colleague Dmitry Trakovsky's evocative documentary Meeting Andrei Tarkovsky is scheduled to take place in Paris, France on Thursday, March 17. For additional details, see the official announcement [PDF]. Reservations required. Yum, the spiced vodka sure sounds tempting as well...
The German DVD release of Nostalghia (from Alamode Filmdistribution) includes Dmitry's Meeting Andrei Tarkovsky documentary as bonus material.
Juliette Binoche on The Sacrifice, here.
Cate Blanchett on Stalker, here.
Roderick Heath on Stalker, here.
Filivs Macrocosmi has released an ambient music CD inspired by (and using sampled audio from) Stalker.
As should be well-known by now (at least by followers of Criterion on Facebook and Twitter), the Criterion BluRay Edition of Solaris is slated for a May release. We are proud to tell you that the correction to the tint is more or less a direct result of our February 24, 2007 news update (scroll down). Also see this post. Our more observant readers point out that the release was actually hinted at back in January 2011. We sure had a hard time keeping our mouths shut about it back in late 2010.
Mosfilm has released Andrei Rublev on BluRay. More information here and here. There is also a blurb over at blu-ray.com. Thanks, Adam Warren. (We haven't yet had the chance to study this release in detail).
For a while, it looked as if The Sacrifice was being prepared by Kino for a BluRay release. Apparently plans have since been scrapped because "the 35mm low-contrast print we were using as our source had printed-in dust and dirt which was unsatisfactory to us."
Yours truly (Trond) will be introducing a screening of Solaris at the Calgary Cinematheque in late April.
Fascinating photo from LIFE Magazine, 7 April 1967, pp. 66–67. Does anyone have a better scan they can provide us with?
Flickr album Inspired by Tarkovsky.
Here is a CD re-issue of the Locklatar Swedish folk music record (used by Tarkovsky in The Sacrifice). There are a couple of extra tracks in addition to the original tracks, one of which is performed by Lena Willemark (ECM). It has a nice booklet too.
The latest Lykke Li music video, directed by Tarik Saleh, has a familiar setting. Yes, that is Naersholmen, where The Sacrifice was shot. (Trond thanks his 19-year old daughter, Mary, a devoted Lykke Li fan of several years, for the tip).
The Swedish book publisher Atrium continue their series of exciting Tarkovsky related releases (all in Swedish language). Their latest release, Apokalypsen som vision (The Apocalyps as Vision), is described in English, here. Atrium is now hard at work preparing the Tarkovsky Diaries for release.
Intriguing: Beuys Meets Tarkowsky. Thanks, Gawan Fagard!
Our friend Guy Maddin notes "My friend, Luce Vigo, daughter of legendary film director Jean Vigo (Zero for Conduct, L'Atalante), will be at UCLA on April 10 as part of an exhibition of Sergei Parajanov photographs. She will also be accepting the 2011 Parajanov-Vartanov Institute award and introducing the great films of her father for a rare LA screening."
Another decade-long friend of ours, filmmaker and musician Keith Rose, has teamed up with vocalist Rebecca Reis-Miller and created an ambient album (direct digital download, CD and soon vinyl) called First Station. They call themselves The Drive to Uqbar, and their Facebook page is here. A documentary of the making of the album is found here. Fans of Barnett Newman and Andrei Tarkovsky might want to check it out. (Spontaneous idea: we'll send one of our screener copies of the excellent and/OAR release Antonioni: Trilogy and Epilogue to a randomly selected person who emails us pointing out at least two Tarkovsky references in the above mentioned documentary. This "contest" closes July 31.)
A trailer for the latest (and apparently last) Bela Tarr film, The Turin Horse, is found here.
The trailer for José Maria de Orbe's Father is found here.

Saturday, September 4, 2010

An exciting event is about to transpire in Firenze (click for PDF):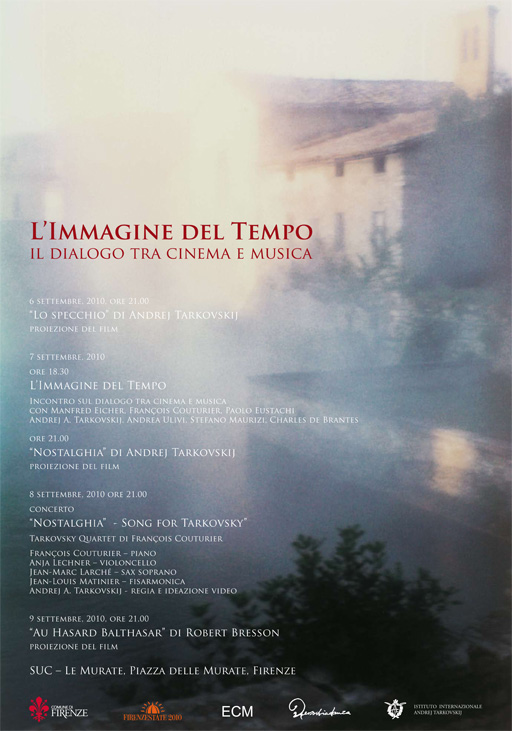 Dr. Beachcombing has a piece on Stalker (among others) in his blog. See if you can help him out.

Tuesday, August 31, 2010

An exhibition of photographs taken on the set of The Sacrifice by Layla Alexander Garrett is opening in Moscow on 15 September at Solyanka Gallery. The last day of the exhibit is 17 October. Most of the photographs have never been published before. Ms. Garrett is also preparing a photo book with 200 pictures from the set — stay tuned.
We've found a link to a new book, just published: Andrei Tarkovsky's Poetics of Cinema by Thomas Redwood.

Monday, August 30, 2010

"No news is good news" they say but it can also be too much of a good thing :-) Your humble editors have been quite busy lately but it's time to ease the news backlog.
We begin with two items about accessing some of Tarkovsky's works on the Internet:
Frank from Germany writes:

You might like to know that all 7 Tarkovsky movies can be watched for free on the online platform ANNEX. My information comes from the German internet site [golem.de]. The annex link is [here], search for 'TARKOVSKY'.

John P. tells us about Mosfilm's online film library:

Just wanted to tip you off that a few days ago Mosfilm started showing its library in online cinema form here. It works 3 ways: you can wait for the movie to play in the virtual theater (whatever is playing that day), watch it online for a small fee, or download it for a slightly bigger fee.

There's an English version of the site and all of his major Soviet works appear to be on there. You can download each movie for a mere $2.33 USD (and then burn it onto a dual layer DVD which may be a more cost-effective option rather than paying 40 bucks). Only problem is many of the films seem to be without English subtitle options at the moment, but definitely something to keep your eye on.

Also, take a look at this intriguing group on filckr.

Sunday, March 28, 2010

"Father and Son" is the name of a festival celebrating the lives of Arseny and Andrei Tarkovsky. The event will take place in April in Kiev, Ukraine. More details from Dr. Frank McGovern:

Dear Sir,

This is to advise you of an event being planned by the Masterklass Cultural
Centre in Kiev, Ukraine. The "Father and Son" festival, which will take place
from 14th – 17th April 2010, will be a celebration of the lives of both
Arseny Tarkovsky, the great visionary poet, and his son Andrei. We plan to show
all of Andrei Tarkovsky's films, as well as documentary films on both Arseny
and Andrei. There will be 'workshops', discussions, a 'poetry evening', art
exhibitions, a display of photographs and other personal items belonging
to Arseny and Andrei, and other events. Many distinguished international
guests will participate, including Andrei's sister Marina Arsenieva Tarkovskaya
and her husband, filmmaker Alexander Gordon; Layla Alexander (Production
Assistant on "Sacrifice"); poets, writers, filmmakers, academics from Ukraine,
Russia, the UK, Sweden and Denmark. Highlight of the festival will be a concert
by the New Era Orchestra on Thursday 15th April – to feature music from
Andrei's films and other classical music. This will be the most important
celebration of the lives of Arseny and Andrei Tarkovsky ever held in Ukraine,
and one of the most significant Tarkovsky events anywhere. I would be most
grateful if you brought it to the attention of visitors to your site.

For more information: www.masterklass.org

Very best wishes,

Dr Frank McGovern

Director of Culture

Masterklass Cultural and Educational Centre

34 Ivana Mazepy St

Kiev

Ukraine


Saturday, March 20, 2010

There will be a screening of The Sacrifice on Tuesday 23 March, 8pm, at the Bethnal Green Working Men's Club, Pollard's Row London E2 6NB. Admission is £5. The screening is FREE to members of Close-Up. Close-Up is a video library in London, England, which operates on a not-for-profit basis. This screening is part of their season on Tarkovsky.

Sunday, March 7, 2010

Here is an invitation from the Friends of Andrei Tarkovsky Society to attend several screenings in May and June, including a screening of Boris Godunov. Additional details here.
The Swedish book publisher Atrium has initiated an ambitious publishing initative. During the time frame of 2009–2012, they intend to release several books pertaining to the life and works of Andrei Tarkovsky. Last year saw the release of a newly translated and edited Swedish edition of Sculpting in Time. In February of this year, Atrium released Offret, reproducing the original script as well as the final dialogue as it appeared in the film, along with articles of reflections and recollections by personnel who worked on the set of The Sacrifice. Nostalghia.com is proud to have played a small role in the production of these books. A book containing Tarkovsky's famous lecture on the Apocalypse is under preparation, and the Swedish Martyrolog is scheduled for an April 4, 2012 release.
We recently received the following review from site visitor Sean O'Byrne:


Trakovsky on Tarkovsky: 

Meeting Andrei Tarkovsky

As a huge fan of Andrei Tarkovsky - the man and his films - it was a
great joy to stumble across this wonderful documentary by
California-based filmmaker, Dmitry Trakovsky.  Since his death in 1986,
Tarkovsky's legacy has  become increasingly relevant in a world that has
lost its way.   For me, Tarkovsky's films fill a spiritual void that is
essential in today's  moral vacuum.  It is no accident that people from
all walks of life (but with a natural penchant for the big idea) are
seeking out almost anything on Andrei Tarkovsky - a new book, a new
essay posted on the Internet, blogs on IMDB, e-fanzines, the music of
Tarkovsky, the polaroids of Tarkovsky, and, in more recent times,
personal reflections by those who worked with Tarkovsky (cue Rerberg,
his cinematographer on Stalker, or Layla Alexander-Garrett, his
translator on The Sacrifice).  Tarkovskyphiles, like myself, seek out
these reflections, because we need to know more - we need to know more
about Tarkovsky and his troubled personal and professional life, in
order to give ourselves the strength to get out of bed in the morning.

You would never say of Tarkovsky's films that you were entertained by
them, but entertained by them I am - and I don't find them in the
slightest depressing; I find them uplifting, hopeful, like the dead tree
in The Sacrifice which the boy promises to water every day until it
blooms.  Dmitry Trakovsky's documentary has that same kind of
hopefulness - it is, at its heart, a film not about death (which
Tarkovsky didn't believe in) but about life - about the immortal nature
of the soul.  Tarkovsky's soul was deep, and it is clear from a number
of the interviewees in this documentary, especially I believe Domiziana
Giordano (the beautiful Madonna in Nostalgia), and Erland Josephson (who
burned his life's possessions and took a vow of silence in The
Sacrifice) that their lives were touched eternally by working, by being,
with Tarkovsky.  There is a great solemnity in their interviews, which I
found especially powerful.   On a more technical, but still fascinating,
level, you have interviews with the likes of UCLA's Professor Vyacheslav
Ivanov, Krysztof Zanussi and Grigory Pomerants.  Uniquely, Trakovsky
doesn't only find those who knew or worked with Tarkovsky, but  talks to
those, such as the Orthodox priest in the hills of the San Gabrielle
mountains, whose lives have been influenced by the spirituality of
Tarkovsky's world view.  On a separate note, I do sympathise with the
young filmmaker, Ilya Khrzhanovsky, who implies that it is impossible to
linger on a scene of nature without someone thinking you're copying
Tarkovsky.   But some of us just happen to like lingering.  Finally, I
admire the fact that Trakovsky does not conduct standard (question and
answer) interviews with his subjects - but lets them talk (almost like a
Tarkovsky monologue) - so that we get some astonishing silences and 
hidden thoughts, which, in many ways, are more telling than the words
themselves.  I thoroughly recommend Meeting Andrei Tarkovsky - it is a
very timely documentary that stands up there with the best of them. 

Sean O'Byrne


Ian Christie celebrates Sergei Parajanov, one of our all-time favorite filmmakers, in this article.
We are sad to report that Mikhail Vartanov passed away in December of last year. On February 5, 2010, a photography exhibition, I Will Wear Your Beret Papa, by Martiros Vartanov, in the memory of Paradjanov: The Last Spring helmer Mikhail Vartanov (1937-2009), opened at the XVI century Condestable Palace in Pamplona, Spain. It was organized by the Punto de Vista International Documentary Film Festival and the government of Navarra and featured Vartanov on the streets of Pamplona, and his meetings there with Andrei Tarkovsky's sister, Marina Tarkovskaya, Jean Vigo's daughter, the film critic Luce Vigo, and Russian filmmakers Aleksandr Gordon and Herz Frank at the 2007 Spanish premiere of Paradjanov: The Last Spring, which was part of the Dear Andrei retrospective of documentary films on Andrei Tarkovsky.
February of this year saw the presentation of four of Tarkovsky's films in the Kunsthaus Graz' series Into the Night.
A review of a new Czech DVD edition of Solaris is now up on Nostalghia.cz.

Sunday, January 10, 2010
Happy New Year to all of our readers!
Without further ado, here are some recent correspondence from site visitors. First, this from Prof. Norbert P. Franz of Universität Potsdam:

Dear sirs,

in my lessons on Russian culture at Potsdam University I frequently consult the films of 
Andrej Tarkovskij.  For the use in class I wrote protocols of some films and the protocol 
of Stalker together with translation of the dialogues and a postscript has now 
been published at Potsdam University Press as a conventional book [Stalker : UdSSR, 1980. 
Regie: Andrej Tarkovskij ; Protokoll des Films in der Original- und der deutschen 
Synchronfassung / Franz, Norbert P. (ed.). — Potsdam: Universitätsverlag. 2009. 130 p.],
and as PDF: available here

Best wishes,

Prof. Dr. Norbert P. Franz
Norbert.Franz[at]uni-potsdam.de
Institut für Slavistik
Universität Potsdam

We received the following from Frank McGovern on December 21, 2009.

Dear Sir

This is to notify you of an event today 21st Dec 2009 in Kiev, Ukraine. Marina Tarkovskaya and 
her husband Alexander Gordon will give a talk at the Masterklass cultural Centre, 34 Ivana Mazepy St., 
Kiev at 19.00. I am an old friend of Marina's, author of a PhD dissertation on Tarkovsky (Oxford 
University)  and Cultural Director of Masterklass and have invited Marina to Kiev in part to discuss 
a Tarkovsky festival we plan in April. There is already a lot of interest in this event from local 
media — Marina Arsenieva now rarely travels abroad. Hope you can mention the event on your site.

Best wishes,

Frank McGovern


Next, an interesting note from Leonid Sokolov of Berlin:

Hello,

I am working on a Paper about Tarkovkys Mirror these days and your website has proved to be an 
exellent recource for all questions around Tarkovsky. Thank you for this! During my reserch I 
found a German Dissertation about Mirror, which I find to be very good, and, as it is from 2004, 
has a very recent bibliography. There is an abstract in English on the second page, so you can 
have a look and decide if this work would fit into the "Selected Bibliography" (I think the 
bibliography of this dissertation can serve a lot of interested people)

Link to Dissertation

Kind regards

Leonid Sokolov



H

ere is a tantalizing invitation from the Friends of Andrei Tarkovsky Society. Also, please support the Society by becoming a Member... membership form here.

James Macgillivray's Andrei Tarkovsky's Madonna del Parto has been translated into Czech. The article is located here, on our sister site, Nostalghia.cz.

Layla Alexander Garrett's book Tarkovsky: The Collector of Dreams has been reviewed by Vera Liber of The East-West Review. Read the review here. Layla is currently organizing a Paradjanov festival in London and Bristol. Check out the festival website, paradjanov-festival.co.uk.

A new edition of Sculpting in Time has been published in the Czech Republic. Another great publication from the hands of Milos Frys. More information here. Milos has also recently published a Czech translation of the Jim Jarmusch Interviews 1980-2000, originally published by University Press of Mississippi, 2001.

Keep abreast of the latest news on Dmitry Trakovsky's documentary, here. Please support Dmitry's film... we have seen it, and it is an important piece of work. Join him on Facebook and Twitter for the latest news.

There is another Andrei Tarkovsky screening series in Los Angeles in a few weeks. Full programme here. Dmitry Trakovsky's film is also being screened (congrats, D.!).

Please consider joining The Andrei Tarkovsky Wave on Google Wave. If you need an invite to Google Wave, just drop us a note.

Faithful site follower of 9 year, Keith Rose and his friend Clay Holliday have just completed their latest film, The Smallest Atom Stirs. Watch Parts 1 to 10, here.




Sunday, November 8, 2009

An invitation from the Istituto Internazionale Andrej Tarkovskij to a series of concerts and readings "Dissidenze Profonde" on the occasion of 20th anniversary of the fall of the Berlin Wall. The events take place in Rome on November 3, 6, 10, and December 3. For more details see the PDF invitation here.
There is an article in The Grauniad about the new documentary chronicling Rerberg's work on Stalker (see, e.g., our March 14 News update). As well, here is a link to the festival showing the documentary in the U.K. Thanks to Todd Ramsey for the links.
There is is a special issue of Image & Narrative on the work of Chris Marker, with articles in French and English. Also see the article The Unknown Statue — A suppressed masterpiece by Alain Resnais and Chris Marker, by Jonathan Rosenbaum.
The entertainment web site Review Fix has reviewed Andrei Rublev and Stalker. Check it out!
Our colleagues over at Nostalghia.cz have posted a Czech translation of our article Andrei Tarkovsky's Madonna del Parto (by James Macgillivray).

Wednesday, August 5, 2009

We are very happy to present a new and very detailed translation of the spoken dialogue from The Passion According to Andrei. The author of this translation, Vera Koshkina, is a Ph.D. student in the Slavic department at the University of Chicago and she writes:

My objective was to create an English language version of the dialogue 
in the film that was more nuanced and faithful to the sound score than 
the text provided in the subtitles.
[...]
The resulting translation is probably of greater interest to students 
or scholars of film than to casual viewers, however, I thought that 
there may be some who would find this translation interesting.


We thank Vera for her brilliant contribution — you can find it in our Topics section or by following this link.




Tuesday, August 4, 2009

Leading the news this evening is Tony Partridge writing from Ireland about Roberto Bolano and Andrei Tarkovsky:

A series of coincidences has again led me to some interesting material
regarding Tarkovsky that may be of interest to you and to visitors to 
your website. This time, it is information about Tarkovsky's influence 
on the writing of a major author.

Last May I went to an evening at the Sligo Spanish Society, Sol y Sombra, 
where a Chilean novelist called Carlos Frank talked and gave readings 
from his work, none of which is as yet translated from Spanish into 
English. At the end of his talk and reading, I asked him about his main 
influences as a writer and he mentioned the Chilean writer Roberto Bolano. 
I did not know about this writer until then and have since learned that 
he was a major South American author who died in 2003 at the age of just 50. 
I purchased some of Bolano's books and the first one I read was a series 
of excellent short stories called "Last Evenings on Earth", translated by 
Chris Andrews and published by Vintage, London, in 2007. Near the end 
of the book there is a short story called "Days of 1978" in which, 
at a pivotal moment in the story, the major character - called B in 
the story - relates an account of a film that has made a big impression 
on him. This film, as it turns out, is Tarkovsky's "Andrei Rublev", though 
the name of the film is never mentioned in the text. In fact, his account 
of the film is a fairly strange and interesting interpretation and the 
account that the character gives of the film seems to have a major effect 
on another major character in the story. Beyond that I will not ruin 
the story for anyone who is interested in reading it by relating what happens.

The other time Tarkovsky influenced a major author is in the Japanese Nobel 
Laureate Oe's novel "A Quiet Life", in which Tarkosvky's film "Stalker" 
plays a very prominent part.

I hope this information is of interest and I remain,

Yours sincerely,

Tony Partridge,
Sligo.


William Miller points us to a new book about Tarkovsky's Mirror: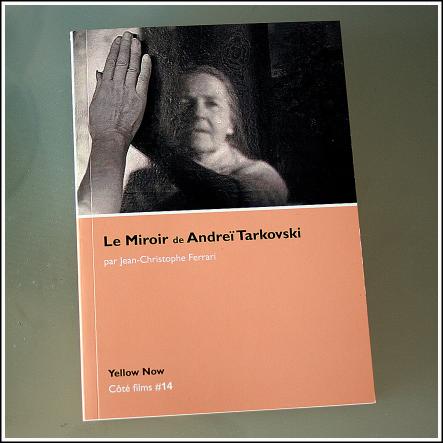 We haven't got any details on it yet but if you are interested, fnac have it available for 11.88 €.
We are reposting here the latest news from the Institut Andreï Tarkovski in Paris, including an English translation this time (PDF document).
You probably remember Dmitry Trakovsky and his new documentary Meeting Andrei Tarkovsky (shown recently at the Lincoln Center in New York). A video interview with Dmitry has been published by the FilmMaker magazine. Thanks to Keith Rose for the link!

Monday, August 3, 2009

Our humble apologies for delaying the latest news from the Institut Andreï Tarkovski in Paris which includes the schedule of upcoming events through May 2010.
Reid Rosefelt sent us this link to a very interesting article on his blog titled What Andrei Tarkovsky Said About Francis Coppola. (I wish I knew this story when I met Mr. Coppola a couple of weeks ago at the San Rafael Film Center! —JB). Fascinating stuff with a hilarious punchline and photograph.
We couldn't resist: do you like "surreal, bizarre, cult, oddball, fantastique, psychotronic, and the just plain WEIRD" movies? Here is one by your favourite director.

Saturday, June 20, 2009

Layla Alexander Garrett's book Tarkovsky: sobiratel' snov (Tarkovsky: The Collector of Dreams) has been published in Moscow by the publisher AST Astrel. Layla recently traveled to Moscow to promote the book.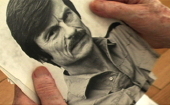 Film Society of Lincoln Center in New York City is having a full Tarkovsky retrospective from July 7th to July 14th. All of Tarkovsky's full-length films will be screened and it will all be capped off with the U.S. premiere of the documentary Meeting Andrei Tarkovsky. Programme and ticket information here. Thanks to John P. for the update.
There will be a press screening of Meeting Andrei Tarkovsky at the Film Society of Lincoln Center, NYC, on the 25th, at 11 am. Interested members of the media may contact Dmitry Trakovsky for a press pass.
Please consider supporting Meeting Andrei Tarkovsky. Funds are still needed for music rights, subtitling, and ancillary fees...
Alva Noto: Tarkovski Revisited.
There is reason to believe that some artworks claimed to be by Sergei Paradjanov maybe indeed be fakes. Please check this page on parajanov.com before considering purchasing a Paradjanov collage through any kind of auction, whether online or otherwise.
In Moscow, Yury Samodurov, a human rights activist, and Andrey Erofeev, a museum curator, are facing criminal prosecution for organizing an exhibition entitled "Forbidden Art 2006" at the Andrei Sakharov Museum. The two men could be sentenced to up to five years imprisonment. The Tagansky District Court in Moscow is scheduled to resume hearing the case behind closed doors on June 5, 2009. You may join us in supporting Russian human rights activists by demanding that the charges be dropped.

A couple of items we were unable to report on in a timely manner, due to our exceedingly busy lives: (a) on June 9, there was a performance of François Couturier's Song for Tarkovskij in Rome, Italia. (b) on May 27 there was a screening of Anne Imbert's 2008 documentary Alexandre Sokurov — questions de cinéma.
The following is a sampling of some of the most interesting readers' letters we received over the last little while. Thanks to you all, for your interesting notes and always encouraging words.

Hello,

Many thanks for the excellent site. I can't find any mention on the site of 
an article in a recent edition of the London Review of Books about Tarkovsky so
you might be interested to have the link which is www.lrb.co.uk/v31/n04/pere01_.html.

				All best wishes,
					Declan O' Driscoll.


---


Hello,

I just completed a master thesis about the spiritual connection between the
German artist Joseph Beuys and Andrej Tarkowski, which is, as far as I know, 
a world premiere. I'm very pleased to present you a copy in pdf, which you can
publish on the site if you want to, or simply link to it. But notice that I 
wrote it in Dutch, another beautiful European language. In English there's only
a brief abstract available, until I find the money and the right person to
translate it in English (so if one of your guys is interested in this job - feel
free!) You can have a look at the work here:

Main text: www.freewebs.com/gawano/MASTERPROEF_DEF.pdf.
Abstract (Dutch and English)www.freewebs.com/gawano/ABSTRACT_NL_ENG.pdf.
Image attachement:www.freewebs.com/gawano/MASTERPROEF_Afb. bijlage_DEFcomp.pdf.

Here a brief abstract in English:

Art towards an integral conciousness.
A study based on the work of Joseph Beuys and Andrej Tarkovsky.

"This research brings together the works of the German artist Joseph Beuys
(1921-1986) and the Russian film director Andrei Tarkovsky (1932-1986) both 
in a visual and philosophical fashion. As both artists refer to the spiritual
catastrophe affecting mankind as a whole, the author investigates the extent to
which this idea relates to the ancestral theme of the lost paradise. Throughout
their endeavors, both artists give art a therapeutical connotation and strongly
believe in its cathartic effect vis-à-vis the crisis of rationalism. This 
departs from the assumption that art is conceptually equivalent to an inner,
divine capacity of creation, which allows men to control their own destiny and
liberate themselves spiritually. This process is firmly grounded on an evolution
towards a aperspective and integral conciousness which, according to the Swiss 
philosopher Jean Gebser (1905-1973), allows mankind to experience reality free
of time and space relations. This expanded experience of reality results into
a new imperative, defined as the free act of sacrifice. Beuys and Tarkovsky are
aiming at a new way of a moral, responsible as well as ego-free spiritual
acting, which allows mankind to reestablish his lost unity with the cosmos,
overcoming the fundamental gap between the human being and his origin. The 
prophet-like position of both Beuys and Tarkovsky is understood as a process of 
desincarnation, pushing man towards a nearly absurdist way of acting, based on a 
radicalization of the artistic activity."

By the way, I wanted to congratulate you with your marvellous website about 
Tarkovski and the other cinematic geniouses, it's really wonderfull work! As you 
can see I referred regularly to your site since the material published there was 
one af my main sources for primary material about Tarkovski.


Sincerely yours,

Gawan Fagard
Free University Brussels, Belgium

Avenue Adolphe Buyllaan 29
B - 1050 Brussel
tel: +32(0)2/646 31 80
e-mail: gawan.fagard[at]projectb.be


---


Hi Trond,

again, thanks for keeping up Nostalghia and all your good work for MoC...
About two years ago, I mailed you an article I wrote on historical echos in
Andrei Rublev, but asked not to share it on the website, because I didn't get a
permission from the publisher (they simply did not answer to my question...).
But, luck is on your side: I by coincidence saw that it is fully available through
Google books.

As I told you before, I'm not happy about language and structure - if I rewrote 
it now, it would be different - but I think my points are made clear.
Feel free to post the link at Nostalghia - and once more: thanks for sharing 
your love for fine movies (and helping us to get decent info and dvds...)

[...] I also found a review that sums it up quite nicely:

"Similarly, Pascal Vandelanoitte's essay, An Icon of Change: Andrei Rublev 
(1966) as a Historical Film about the Birth of Russia, also explores a film 
where historical background is unspoken, in the service of larger historical
statements. The film itself is heavily laden with dates, characters, and events 
familiar to Russian audiences as cultural insiders but which fail to provide 
adequate context for cultural others, allowing history to remain a puzzle.
As a result, Andrei Rublev has frequently been denied status as an historical 
film in Western circles. Vandelanoitte's work unpacks the film's historical 
content, in tandem with the painter's psychological conflict, in order to 
demonstrate Tarkovsky's use of Rublev's story as an allegory of broader social 
change in Russia, in the early 15th century."
Reference:  Historical Journal of Film, Radio and Television, March 2009.


Yours sincerely,

Pascal Vandelanoitte


---


Dear Trond,

It is with great sadness that I read of Oleg Yankovsky's death, especially as I
spent this afternoon - before reading the news - watching him carry the candle 
again across the sulphur-baths at Bagno Vignoni.

People visiting your site may find it very interesting that this significant 
scene from Tarkovsky's 'Nostalghia' appears in a video collage at an art 
exhibition called "Medium Religion" that just opened in Sligo, Ireland. The
exhibition has just transferred from the ZKM / Center of Art and Media, 
Karlsruhe, Germany. It is curated by Boris Groys and Peter Weibel.


Included in the exhibition is a video collage by Boris Groys, called "Religion 
as Medium". The collage includes the complete candle scene from 'Nostalghia' 
which is overlayed with a talk by Boris Groys. The full text of Groys' talk is 
published in the catalogue for the exhibition. Essentially, Groys suggests that 
the hero of Tarkovsky's film "finds himself in a state of a total lack of 
opinion". Groys says this in the context of his view that religion, in its 
sacred space, "marks and describes the state of opinionlessness." He says that 
people in this state practice repetition as "a ritual of the opinionlessness." 
To this extent, according to Groys, the "inescapable repetitiveness" of 
Tarkovsky's hero marks him as "a medium of this lack of opinion." 

At the opening of this exhibition, I chaired the talk and discussion with Boris 
Groys. I also spoke of Tarkovsky, in particular his comments on "the atrophy of 
the organ of belief" in Western man. (I attach this short talk for your interest 
and please feel free to include any part of this at your website if you find it 
relevant.)

The exhibition "Medium Religion" runs from 23 May 2009 - 16 August 2009 at The 
Model Satellite, Model Arts and Niland Gallery, Sligo, Ireland.

[...] 

Currently I am reading a translation of Simeon Frank's Reality and Man, which 
Vadim Moroz, in his recent book, wrote was an important text for Tarkovsky. 
Certain sections, particularly on art and the artistic process, might have come 
directly from the mouth - or pen - of Andrei Tarkovsky. For example: "The 
artist, of course, creates 'of himself' - mere repetition of other people's 
ideas is not creativeness - but the creative 'self' is not simply the individual 
in his subjectivity, and not an impersonal bearer of consciousness in general: 
it is an individually-human embodiment of the super-human spirit acting in man." 
Or: "At bottom, however, every reality and every spiritual force (in so far as
it acts through the centre of human personality and therefore is merged with 
man's creative freedom) issues from that centre and primary source of reality 
which we call God. ... It is as a creator that man is most conscious of himself 
as 'the image and likeness' of God. ... man as creator is a co-partner in God's 
creativeness." And: "Human spirit is a creative entity to which God as it were 
partly 'delegates' His own creative power, authorising it to be an active 
partner in His own creativeness." And too: "Man is not only the servant of God's 
creativeness. ... God has called man to be not simply His servant, but His free, 
i.e. creative co-worker." I am currently about two-thirds way through this often 
difficult text, but it gives quite an insight into the influences on Tarkovsky, 
particularly during the period of his last two films. The version of the book I 
have was published by Faber and Faber in 1965, and was translated by Natalie 
Duddington.

All the best,

Tony

Tony Partridge,
Sligo, Ireland.



Wednesday, May 20, 2009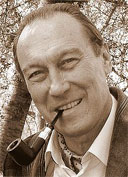 We regret to inform you that Oleg Yankovsky has died, at the young age of 65. Obituary from Associated Press, here. Our colleague Petr Gajdosik over at Nostalghia.cz wrote this note (Czech).
Some fascinating information on a new HD transfer of The Sacrifice, here.
There is an article on Meeting Andrei Tarkovsky at the always interesting bagatellen site. Also check out the trailer. The film will be fatured in July at New York's Lincoln Center. For running updates, follow on Twitter or log onto the official website.

Saturday, April 11, 2009

Sergei Sviatchenko provided us with the following photos from the opening of his Berlin exhibition (see our previous news update). Special guests Layla Garrett and Aleksander Gordon may be spotted here. In addition, here is a relevant video segment. Sergei has graciously allowed us to post the entire exhibition catalogue as well as this pamphlet containing Mr. Gordon's text, with a very interesting Paradjanov reference (both files in PDF format).



Longtime site follower and contributor Eugene Borzov provided us with the following report from the annual Ivanovo "Andrey Tarkovsky Homage Days":

Dear Trond,
 
I see that despite a huge amount of work in your office you still find time to 
make your great site move on.  I'm sure all Tarkovsky's fans across the world 
do appreciate it.  I'd be pleased if the following information on how Andrey 
Tarkovsky was remembered last week here in the land of his birth may contribute 
to your developments.
 
On April 3, 2009 Shavkat Abdusalamov (worked as scenic artist in "Stalker" for 
some time) came to Ivanovo to talk about his cooperation with Tarkovsky in the 
late 70s. Vitaly Troyanovsky, Director of the "Isles" program on TV Channel 
"Kultura", spoke about his vision of "Ivan's Childhood" and introduced his 
documentary on Shavkat Abdusalamov.
 
On April 4, 2009 all these guests visited Yurievets and participated in the 
Liturgy, dedicated to our great countryman and then in the opening of the photo 
exhibition "Stalker Again".
 
Yet another exhibition of Tarkovsky's Polaroid pictures was displayed that 
day in a new gallery in Ivanovo. This project was initiated by the "Klassika" 
Association and the "Konsultant" company. About 60 pictures, made by Andrey 
Tarkovsky  in the early 80s both in Russia and Italy were presented in a big 
screen digital format in the background of live music, performed by Yevgeny 
Borzov (piano) and Svetlana Kunitskaya(cello). This performance was followed by 
a multimedia presentation of the director's "Diaries" prepared by students of 
Ivanovo State University of Chemistry and Technology.  Extracts from Tarkovsky's 
films, citations from his articles and books, as well as poems by Arseny 
Tarkovsky were included in this presentation.
 
On April 5-6, 2009 the local audience could see two documentaries by Yevgeny Borzov 
"The Reflected Time" and "Magnetism of Memory", which concluded these Andrey 
Tarkovsky Homage Days.
 
Please see some pictures of the events featured above in the attachment.
 
Best wishes and a very Happy Easter,
Eugene Borzov
 
Ivanovo
RUSSIA


Saturday, April 4, 2009

Here is the press release for Sergei Sviatchenko's latest work and his Tarkovsky Traveling Exhibition, now in Berlin at the gallery Photo Edition Berlin. Layla Garrett and Aleksander Gordon are attending the Berlin opening.

"Mirror by Mirror" by Sergei Sviatchenko.
A personal tribute to Andrei Tarkovsky, one of the greatest poets of cinematic art.

Exhibition from 03. April - 25. May 2009
Photography - Collages - Installation

The exhibition "Mirror by Mirror", as well as the publication accompanying it, take the film 
"The Mirror" by Russian film director Andrei Tarkovsky as their starting point; a film that 
has strongly influenced the understanding of art and visual formation of Danish visual artist 
and architect Sergei Sviatchenko.  Ukrainian born living and working in Denmark for more than 
20 years, this exhibition traces a path back to the roots of Sviatchenkos visual training at 
the school of architecture in Karkov Ukraine.

Since Sviatchenko's teenage years, Tarkovsky's profoundly poetic and dramatic pictorial 
universe has nourished Sviatchenko's art and philosophy of life. "Mirror by Mirror" crystallizes 
the essence of a never physically realized meeting between two artists, who, from their respective 
places in history, deal with images combining, at the same time, the distance of the imposing 
with the presence of the detail in urgently insistent and relevant attempts to comment on and 
describe the world, as well as the many physical and mental spaces that people enter throughout 
life. By mirroring his own work in Tarkovsky's, Sviatchenko stages his individual narrative as 
autonomous visual statements, borrowing from and referring to "The Mirror".

In search of inspiration and as a preliminary to the exhibition "Mirror by Mirror", Sviatchenko 
went on a study tour to Moscow in June 2008. Receiving invaluable help from Irina Tchmyreva, 
curator and ph.D. in Art History, he got the chance to meet the author of a number of books on 
Andrei Tarkovsky: Tarkovsky's sister, Marina. She was deeply touched by Sergei Sviatchenko's visit, 
describing his art as both profoundly original and fully in accordance with the spirit of Andrei 
Tarkovsky: a striving towards the sublime and a particular sense of capturing and maintaining a 
momentary meeting between the conscious and the unconscious. Another major event for Sviatchenko 
in Moscow was his meeting with his former professor from the school of architecture in Kharkov,
Victor Antonov, whose text on the meeting with Tarkovsky in the Soviet Union during the 80s is a 
special treat for the readers of the exhibition's extravagant catalogue.

Laying the groundwork for the way in which the exhibition was created, the study tour is one of the 
reasons that "Mirror by Mirror" will be displayed in Russia. The exhibition is accompanied by a 
broadsheet catalogue in three languages composed of documentary film material from the shooting of 
"The Mirror" and Sviatchenko's graphic adaptation of this material. The catalogue presents texts 
by Marina Tarkovskaya, Irina Tchmyrva, Victor Antonov, Mark Le Fanu and Per Carlsen, Danish Ambassador 
to Russia. The publication is made of several types of paper, colours, sizes and different type fonts 
created by London based graphic designer James Greenhow.  Furthermore, Marina Tarkovsky has helped 
select the collage works included in the exhibition and in the catalogue.  His Excellency Mr. Teymuraz 
Ramishvili, Russian Ambassador to Denmark, and Marina Tarkovsky, author and sister of Andrei Tarkovsky, 
opened the exhibition in Arhus.

Trine Rytter Andersen curated the exhibition in Arhus and is co-curator together with Gunther Dietrich 
in Berlin.  The exhibition is kindly supported by the russian and danish embassies in Berlin.

Vernisage: 03. April 6-9 pm
Laudatio: Dr. Peter Funken, Berlin and Layla Alexander Garrett, London

The musicpiece, Mirror by Mirror, from Arvo Paert will be performed during the opening.

Interpret: Annette Wiegand

PHOTO EDITION BERLIN, Ystaderstr. 14a, D- 10437 Berlin- Prenzlauer Berg
Tel. 030 41717831 contact@photo-edition-berlin.com / www.photo-edition-berlin.com
Curator: Gunther Dietrich



Monday, March 30, 2009


The Friends of the Tarkovski Institute has announced a change to their April 3, 2009 concert/multimedia event (see our March 14 news update). The event now starts at 20:30 hours, and the location is Théatre des Arts. Here are the directions to get to the venue.
Further, the Intitute has announced a presentation of the audio programme Tarkovski, le son de la terre (see our December 29, 2002 update) on April 8, 2009. Here are the full details. We have an audio recording of this interesting radio program and highly recommend it (as well as the vodkas served after the presentation). We hope to some day obtain permission to post the mp3 file on our site...
Please consider joining the Nostalghia.com community on facebook.
The following announcement just in from the Virginia Commonwealth University:

The VCUarts Cinema Program and the VCU Bookstore are proud to present,

An introduction to Tarkovsky's Theory of Visual Arts, a lecture by Vadim Moroz, author of Andrei 
Tarkovsky about His Film Art.

Sunday April 5th, 2:00pm
Cinema Studio, Pollak Building 520
325 N. Harrison Street
Richmond, VA 23284-2519

Come learn more about the critically acclaimed Russian filmmaker responsible for such important 
films as Stalker, Solaris and Andrei Rublev.

In the 1980s, Vadim Moroz was responsible for organizing several film seminars in Berlin. In 
March 1984 he lectured together with Andrei Tarkovsky during the special film seminar at the college 
Castle Glienicke, Berlin. He also worked as Tarkovsky's personal interpreter and translator. The book 
includes a translation of Tarkovsky's lectures and transcriptions of subsequent questions and answer 
sessions with students.

Copies of Andrei Tarkovsky About His Film Art will be available for purchase and signature following 
the lecture.

Kate Peters
Administrative Coordinator
Cinema Program
VCU, School of the Arts



Saturday, March 14, 2009
W

e have just completed reading, and we highly recommend, Vadim Moroz' little volume entitled Andrei Tarkovsky about His Film Art – in His Own Words (see our January 25 update). It is filled with insights, many of which do not appear directly in Sculpting in Time (while at the same time remaining entirely consistent with those found in the latter). We will be featuring a full review of this book, by U.K. director Sean Martin, some time in April. The book is easily ordered and paid for by PayPal ($22.50), via this link. We consider it an essential addition to any Tarkovsky library...


The Friends of the Tarkovski Institute has announced an April 3, 2009 concert/multimedia event at L'Apostrophe, Théatre des Louvrais, Place de la Paix à Pontoise, featuring the François Couturier Quartet. Please read the written invitation, view the event poster, and refer to the directions to get to the venue.
The 205-minute version of Andrei Rublev will be showing at the New Beverly, Los Angeles, on April 5, 6, and 7. Thanks to David Sweetman for this update!


Site visitor Michael Lellouche called our attention to a photo book focussing on Mirror. It appears to be a follow up to the italian exhibition in 2007.
Here is a short clip from the new 2008 documentary by Igor Maiboroda titled "Rerberg and Tarkovsky: The Reverse Side of 'Stalker'. In this clip we are shown Isfara where the original Stalker was to be shot. An earthquake in the area prevented the crew from working there. The 140 mins. documentary focuses not only on "talking heads" (very interesting ones, incidentally) but tries to show the inner world and the artistic background of Georgi Rerberg, the cameraman that photographed Tarkovsky's Mirror and the first version of Stalker. This documentary has been criticised for being "anti-Tarkovsky" but we disagree: in our opinion it merely tries to show how important Rerberg's contributions were. This in no way takes anything away from Tarkovsky.
The Austrian Film Museum (OeFM) is staging a Tarkovsky retrospective, March 4 to 25, 2009. Refer to their web site for additional details. As usual, their event poster is available for 7 Euros.
There was a screening of Stalker at the National Film Theatre, London, on February 10, 2009. It is 28 years since Stalker was first shown in the U.K., at the NFT, when Tarkovsky himself was present on his first visit to the UK. (Apparently, a show of hands revealed that there were about half a dozen people in the packed auditorium who had been there on that night). The film was briefly introduced by Ian Christie. The screening was followed by a discussion with Evgeny Tsymbal and Anatol Lieven. The screening was co-sponsored by Academia Rossica (whose journal will be featuring Stalker in a future issue). See also Danger! High-radiation arthouse!, by Geoff Dyer (The Guardian). Programme notes, page 1 and page 2. Thanks to Tom Cheetham and Vils M. Disanto for contributing to this report.
Some Ivan's related material here. Thanks to Patrick for the pointer.

Wednesday, February 4, 2009

Nathan Dunne (editor of the recent book Tarkovsky) will be giving a lecture called Andrei Tarkovsky and International Terrorism at 4:30pm on Thursday February 12th at Yale University. All are welcome. The exact location is: Yale Film Study Center, 53 Wall Street, Room B17 (New Haven, CT 06511 USA). He will also be introducing a screening of Solaris at the Yale Film Auditorium at 7pm on the same day, Thursday February 12th.
There is a new essay called Andrei Tarkovsky: Truth Endorsed by Life available at Senses of Cinema. The essay reflects on Tarkovsky's Solaris and Stalker, in the light of the Spanish philosopher José Ortega y Gasset's reference to Man as a "conscious cosmic phenomenon". Thanks to Conrad Steeves for the tip.

Sunday, January 25, 2009

Vadim Moroz wrote us with news about a book he has been working on since 2005, entitled Andrei Tarkovsky about His Film Art (in His Own Words):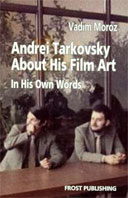 In March of 1984, I organized a film seminar in College Glienicke, West Berlin 
and invited Andrei  Tarkovsky as guest lecturer.

For seven days he laid out, day by day his film theory, his philosophy, opinions 
and  principles.  I was his interpreter and the book is based on my translation 
of Tarkovsky's conversations in College Glienicke. During the conversations 
Andrei Tarkovsky created  several drawings, which illustrate his thoughts. 
He presented these drawings to me as a gift.

After the seminar in the summer of 1984, Tarkovsky wrote the manuscript 
Sculpturing in Time, which was published in German by Ullstein, Berlin 
in early 1985. I kept my archives unpublished until the book Sculpturing in Time 
was distributed worldwide. In 2005 I began to work on my archives and discovered that 
many subjects of our conversations were not included in his book.

I hope that Andrei Tarkovsky about His Film Art will provide additional & new information about this 
great film-maker and his films. You can find more information about this book on frostpublishing.net.


Vadim Moroz



A collection of literary screenplays of some classic Mosfilm movies has been released by the Russian publishing house Khudozhestvennaya Literatura (in Russian). One volume (ISBN 978-280-5-03455-6) is titled Zerkalo (Mirror) and includes the screenplay of Tarkovsky's film of the same name. More information here. Thanks to Eugene Starostin, UCL, London for this information.
Andrei Tarkovsky used several of his fathers poems in his movies. Alex Nemser and Nariman Skakov submitted to us new translations of all poems by Arsenii Tarkovsky appearing in Andrei's films. One of the poems appears here in translation for the first time.
Dmitry Trakovsky, director of Meeting Andrei Tarkovsky, sent us the following note. We have seen the film, and we are convinced that a Tarkovsky documentary of great significance has been born. Please consider supporting this project.
CALL FOR INVESTORS

Dear friends and supporters,

With this new year, I am appealing to you for a final infusion of funding which is needed for my documentary Meeting Andrei Tarkovsky to reach its audience. My personal finances have been depleted, and I am looking for about $10,000. This sum will allow the film to surmount the legal and logistic obstacles that are keeping it from wider release and distribution. Any amount would be appreciated, and of course I will work tirelessly to earn you substantial returns for your participation.

All investment will go towards helping Meeting Andrei Tarkovsky finish its festival tour and, within the year, achieve DVD distribution. Specifically, the needed funds will:

1. help purchase the remaining usage licenses for external music and footage (40%)
2. pay for technical costs such as Digibeta duplicates, transfer to PAL, etc. (20%)
3. create a version of the film in Russian (20%)
4. redesign the website (trakovskyfilm.com) (10%)
5. cover the costs associated with festivals, such as publicity materials, entry fees, etc. (10%)

This is a rare chance to become intimately involved with a work about Tarkovsky, and the hard part (production) is complete! In fact, the film has already won many acclaims, such as a Jury Special Mention at the Sao Paulo International Film Festival and enthusiastic reviews (The Guardian called it an "excellent doc").

Here are some articles about the film:

Regard Sur L'est (French)
Tribuna da Imprensa (Portuguese)
The Guardian (English)


So please take this chance to invest in Meeting Andrei Tarkovsky and together we will bring this documentary to a global audience...

Contact me for further information, and Happy New Year!

Dmitry

--
Dmitry Trakovsky dmitry.trakovsky@gmail.com
The cemetery in which Tarkovsky was laid to rest, Sainte-Geneviève-des-Bois Cemetery, may now, sadly, be considered endangered. "Since the 1960s, the municipal authorities have periodically attempted to close the cemetery, claiming that the grounds are needed for public services. There have been reports that some of the graves will be opened and the exhumed remains cremated. As of 2006, the cemetery is not officially considered a landmark and has no legal protection." Please visit it while you can. Thanks to Michal Petricek for the pointer.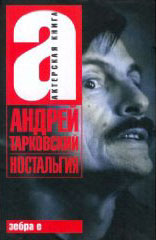 There is a new book out in Russia, Nostalgiia, containing "documents and archives, recollections and articles about Andrei Tarkovsky". 528 pages. All in Russian.
Site visitor Jeffrey Meyer sent us some interesting Tarkovsky-related artwork he recently made... see here.
More information on Jeremy Robinson's book The Sacred Cinema of Andrei Tarkovsky can be found here.
There is a new 8xDVD set out, containing a large collection of films by and about Andrei Tarkovsky. More information on this monumental DVD set from mk2 may be found here. We would appreciate hearing from any of our readers who have had the chance to take a closer look at these DVDs. Thanks to Benoît Robinet for the tip.
There is a new Italian 2xDVD release of Nostalghia out. We have no details on the technical qualities (or lack of such), and would again appreciate hearing from any of our readers who have had the chance to take a closer look at the DVD.
Petr, of our sister site Nostalghia.cz, wrote this report after his visit to the location where The Sacrifice was shot. Also refer to our own humble location guide before planning next summer's vacation...
Frequent site visitor and contributor (and filmmaker) Keith Rose's music album Minus One is now out on iTunes. Here is an amazon link as well. We purchased the album, and (being fans of Steve Reich, Philip Glass, Brian Eno, et al.) we loved it!



©2004 www.nostalghia.com
All Rights Reserved