Wednesday, November 5, 2008 [ Updated Dec 16, 2008 ]


Dmitry Trakovsky's Meeting Andrei Tarkovsky will have its UK premiere at the Leeds International Film Festival. It is being shown on 07/11/08 and 08/11/08. More information here. The film just won a Jury Special Mention at the Sao Paulo International Film Festival. Don't miss this blurb on Dmitry. Finally, here's some more news from Brazil. For more updates, join the Meeting Tarkovsky facebook group.
Offret is being screened at Stockholm Konserthus on November 9 during their annual Tonsättarfestival. More info here. Booklet for the screening (images provided by Nostalghia.com/Löthwall) can be viewed here.
Nathan Dunne's (Ed.) Tarkovsky has been reviewed in the latest issue of film-philosophy.com. Access the review here.
We received the following letter from Mark Le Fanu a few weeks ago:



						October 21, 2008 

Dear Trond
 
"Mirror by Mirror"
 
I meant to tell you about an art exhibition here in Aarhus Denmark 
based on ideas and images from The Mirror. It runs until mid November. 
The artist is a Ukrainian named Sergei Sviatchenko who has been based 
here in Denmark for a number of years. The work is in collage format, 
and will continue to be exhibited at Galleri Image in the city centre 
until the end of November. Marina and Sasha were here a fortnight ago 
to help launch the exhibition. Later it will be going on to Moscow. 
 
I've contributed a short essay to the catalogue.
 
Kindest regards, as always
 
Mark
 

Further to the above, Sergei Sviatchenko kindly provided the following images — click for larger versions.




Thursday, September 4, 2008


T

hree years ago, pre-med student Dmitry Trakovsky sent us an email asking for pointers and advice to help him get his film production off the ground. Meeting Andrei Tarkovsky was born shortly thereafter. This documentary film is an account of Dmitry Trakovsky's exploration of one of Tarkovsky's most enigmatic declarations: that death does not exist. Structurally, the films narrates through a series of interviews that gradually take us from Los Angeles to Yurevets, Tarkovsky's hometown. Among the many people interviewed by Mr. Trakovsky are Andrei Andreevich Tarkovsky, Krzysztof Zanussi, Erland Josephson, Donatella Baglivo, Franco Terilli, Manuele Cecconello, and Domiziana Giordano. The editing of the film was supervised by Michal Leszczylowski, co-editor of The Sacrifce.

Dmitry has submitted a work-in-progress screener to several film festivals and is about to begin post-production. Some additional funding is still required in order to complete the project. Please support Dmitry by joining his Meeting Andrei Tarkovsky facebook group (currenly 500 members and counting — the group provides running production updates, screenshots, and more), and by sending any suggestions in regards to funding, festivals, or distribution to Dmitry at email dmitry.trakovsky@gmail.com.

A preliminary press-kit can be found here [PDF].

Wednesday, August 27, 2008

The 2nd International Tarkovsky Film Festival took place in Ivanovo May 26 to June 11, 2008. Andrei Rublev Director of Photography Vadim Yusov turned up in order to screen his recent digital restoration of Andrei Rublev. This version supposedly contains additional material and "reflects Tarkovsky's original intentions". We have no further details (or comments) at this point in time.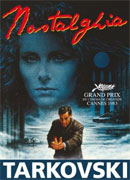 We received the following from our man in Paris, Michael Lellouche:

Hi Trond,

[...]

The french DVD of Nostalghia has been released this week and it is a great
surprise. I've watched it and this is by far my favorite master until now. 
Image is very similar as the old R1 Fox Lorber, but I would say maybe sharper,
colors are rich, the contrast is very good too, especially in dark areas which
are respected.

I would say the only downfall is that it is 16/9 compatible to 4/3, but image
seems slightly resized from 1.66 (which seems to me the original format) to 1.77. This is quite
minor and the DVD is gorgeous to me. The best to date in Region 2 and PAL, with french subtitles.

I have a few captures here including one with subtitles: [ i | ii | iii | iv | v | vi ]

Here is a link to get it.


Regards,
Michael Lellouche


(For information about other DVD versions of Nostalghia, see our September 4, 2007 (scroll down on this page) and July 31, 2005 news updates. See also October 20 and 31, 2005 news entries, as well as the surprising May 25, 2004 update which we hope to update you again on, soon).


The French newspaper Le Monde occasionally includes movies on cheap DVDs. One of the films thusly released is Le sacrifice. (Incidentally, magazines in Poland do the same thing — e.g., Wajda's Wedding is, as far as we know, available on DVD only in this form, at the moment.)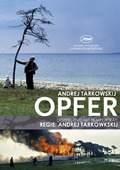 Opfer (The Sacrifice) was also released in Germany, back in April. Details here. This 2-disc DVD set is released by absolut MEDIEN in Berlin. Also have a look at their interesting catalogue [PDF].
We received the following interesting note from site visitor Tony Partridge of Ireland:

Dear Jan and Trond,

I inadvertently came across the following information today, information 
that I hope you will find interesting.

I was in my local bookshop and spotted a book on the shelf and found an
interesting three page article in it on Tarkovsky's "Solaris". The article 
is called "Solaris and the White, White Screen" by Lilya Kaganovsky (who 
is an assistant professor of Slavic Languages and Literatures, Comparative
Literature and Cinema Studies at the University of Illinois at Urbana-Champaign)
and is in the book called, "Picturing Russia Explorations in Visual Culture"
edited by Valerie A. Kivelson and Joan Neuberger and published in 2008 by Yale 
University Press. The article is on pages 230-232 and there are two coloured
stills from "Solaris" in the centre of the book.

The article itself has some inconsistencies in it. For instance it names "The
Steamroller and the Violin" as one of Tarkovsky's five Soviet films and leaves 
"Mirror" from this initial list. Then, later, there is a short discussion of The 
use of Leonardo's portrait of the young lady with the juniper in the film 
"Mirror". However, more important is that, in discussing "Solaris", the author
says that one of Tarkovsky's "perennial concerns" is "the consequences of 
confrontation with an incomprehensible and alien Other." Surely this is one of 
Lem's "perennial concerns" rather than one of Tarkovsky's. Then I'm afraid that 
the rest of this article seems predicated on this initial mis-reading of 
Tarkovsky's film(s). The points made are interesting, but they are hardly 
central and important points in a discussion about Tarkovsky's oeuvre in a major 
anthology like this one.

Other articles on film included in the anthology are on "The Cinema Pastoral of 
the 1930s", on Eisenstein's Ivan the Terrible, and on Mikhail Romm's Ordinary
Fascism. I haven't read any of these articles yet.

All the best,

Tony Partridge,
Sligo, Ireland.



Some of our readers have asked us about the differences between the books Instant Light (Thames & Hudson) and Bright, bright day (White Space Gallery). We have had the chance to review both books and can confirm that they are indeed very different. While the former preserves the original size of the Polaroids, the latter reproduces them in glorious full-page format (making it, in a sense, more of a coffee-table book). As well, the actual photo selection is somewhat different, and the selection of essays and interviews is different. Here is a scan of the title page, which also provides a table of contents. The cover is here. And, here is a sample Polaroid (2640x2676 pixels), kindly provided by the White Space Gallery. The book comes highly recommended. White Space Gallery informs us that it has also recently been published in Russian.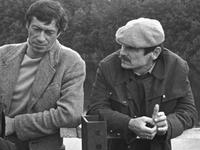 This year's Moscow International Film Festival (MIFF) premiered a fascinating new documentary, Rerberg and Tarkovsky: The Reverse Side of Stalker (Igor Maiboroda, 2008, 140 min), a film about Tarkovsky's feud with cinematographer Georgy Rerberg.
Site visitor Pilar Carrera informs us that she has recently published an essay about Tarkovski. The essay, written in Spanish, is called "Andrei Tarkovski. La imagen total". It can be purchased via this link. It is published with support from Fondo de cultura económica.
Guido Gräsel of Germany sent us a collection of beautiful East German (GDR) lobby cards. We are pleased to present them, here. Thanks, Guido!
Still looking for an excuse to buy that Blu-Ray player? Stay tuned...
Black Dog Publishing is offering our readers a special academic discount of 40% on all orders for the book Tarkovsky [Dunne, ed., 2008].


C

onsidering the above mentioned discount, there should be no excuse for not picking up this truly excellent — we dare say essential — tome, which we have already made frequent reference to in this news column. Here is a brief review.

Tarkovsky [Nathan Dunne (ed.), 2008] is filled with easily readable, challenging essays which explore possible new inroads to Tarkovsky's works while raising awareness of his contribution to the language of cinema. The degree of rigor and experimentation seen in these essays is, frankly, quite refreshing, and the book succeeds quite well in establishing a framework within which future research on Tarkovsky can be undertaken in a more truly interdisciplinary context. The book is richly illustrated, it contains a filmography, a timeline, a genealogy, as well as excellent new translations of the poems of Arseny Tarkovsky appearing in Tarkovsky's films.

The book is divided into four sections, each organized according to certain themes and ideas [ Table of Contents: Pg. 1 | Pg. 2 ]. The section Russia and Religion attempts to examine Tarkovsky's journey into religious themes and ideals. The section Art and Nature explores from various angles the line of intersection of the two planes of Art and Physical phenomena, as seen in his oeuvre. The third section, Music and Modernity, investigates the role of music in his films, and its implications of influence and interpretation. James Quandt's essay Tarkovsky and Bresson: Music, Suicide, Apocalypse is particularly interesting. The final section, alone worth the price of the book, Memory and Awakening, contains a series of memoirs from crew members, students, and fellow directors. For example, Stalker's production process is set out in detail. Marc Forster also contributes an essay to this section.

We're proud of the fact that, in the Introduction section, when describing KGB's surveillance of Tarkovsky and his family, Mr. Dunne uses an excerpt from Tarkovsky's Diaries [ August 7, 1983 ] which is found only on Nostalghia.com. This intriguing entry (which presumably refers to the KGB) is omitted from the officially released, "definitive", versions of the Diaries.

Here are some high-res (1800 x 1200 pixels) press photos issued in connection with the book's release, for your enjoyment: [ i | ii | iii | iv | v | vi | vii | ix | x | xi | xii | xiii ].

As will often be the case with ambitious projects such as this Volume, there is bound to be the odd problem — and we would be amiss if we didn't point some of them out:

The quality level of academic analysis and discussion is consistently high, but often when technical detail, or easily verifiable facts, are dealt with, there are numerous, easily spotted errors. The book contains an illustrated filmography, an example page of which is shown here. Vadim Yusov would be horrified to find himself replaced by one E. Shvedov as the camera operator. Layla Alexander-Garrett (interpreter on the set of The Sacrifice) sums up some of these concerns in this piece, wherein she also issues a call for higher standards in academic works, in an effort to prevent the perpetuation of factual inaccuracies.

The Introduction claims that the famous Sartre letter has been translated into English for the first time, for this book. However, we have had a faily decent translation of the Sartre letter on our site for more than half a decade.

Finally, a few of the photographs in the book are marred by colored Moiré patterns. The publisher responded to our concern as follows: "Regarding the colour registration issue, its something we are aware of and concerns the original images supplied to us, they were shots taken of a screen showing the film. In the advent of any further printing of the book this would be rectified through further picture research to obtain alternative images to replace them with."

Having said that, this book is essential and definitely not to be missed!
Petr Gajdosik of nostalghia.cz provides a short review of the Russian edition of the book Il cinema di Tarkovskij e la tradizione russa by Simonetta Salvestroni (see our April 14, 2006 update). And here is a travel log from Petr's trip to Fårö.
The Netherlands Socety of Cinematographers has a page referencing our piece on Sven Nykvist's book, here.
Russa! Magazine is both fun and clever (for those so inclined). They recently included some Tarkovsky related content — see the poster featured on this page. You may have to look closely to spot it.

The following just in from artist Cecilia Westerberg. Stunning!


Dear Nostalghia.com

I would like to forward my art work inspired from Ivan's Childhood for your
interest and information. I had a solo exhibition in Frankfurt, Germany in
February 2008 called Darkness Moves. All the images are from the film Ivan's
childhood. As an artist I work with unforgettable images that have had an long 
lasting impact on me. The everlasting impression and the almost empty and sacral 
space is something I have tried to transfer to the paintings. The theme I worked 
with in the exhibition was "loss" as in loss of childhood, innocence and of 
course life itself. Almost every single frame in Tarkovsky's movies can be transfered to a painting as 
the composition in the images are so strong.


I hope you or any of your readers would find it interesting to view. It would great to have viewers with 
the same passion.

I have attached a low quality pdf file but can mail better quality if needed.

Images from the exhibition can also be viewed on the gallery's website 

Kind regards
 
Cecilia Westerberg
+45 20919097
cwesterberg[at]yahoo.com


We received the following request from Terence McSweeney. We encourage those of our readers so inclined to get in touch with him asap.


Dear Nostalghia.com,

I hope you don't mind me contacting you. I have been a long time admirer of the
site. My name is Terence McSweeney and I am a PhD candidate at the University of
Essex in England where my thesis is on Andrei Tarkovsky and called 'Beyond the
Frame: The Films and Film Theory of Andrei Tarkovsky.' Some of my work was
included in the volume Through the Mirror: Reflections on Tarkovsky (Cambridge
Scholars Press, 2006) and some is also due to be published in the book Faith and
Spirituality in Masters of World Cinema due in early 2009.

My PhD is due for completion in December 2008 and I was wondering if it would be
appropriate to use your site as a way to find if there are any Tarkovsky 
scholars out there who would be interested in reading the document? I should
make it clear that I don't require a proof reader, rather an informed opinion on
the work as it stands. Perhaps suggestions, comments and criticism in as little
or as much detail as the reader prefers.

I haven't seen any requests like this on the site before so if it is
inappropriate please feel free to discard it. If not I can be contacted at this
address tmcswe[at]essex.ac.uk.

Thank you very much for your time.

Regards

Terence McSweeney

London, England 

We got this tip from an anonymous reader:

Hi,

Some of the leading musicians in the electronics musics field have some
recordings for a homage to Tarkovsky.

Entitled In Memoriam Andrey Tarkovsky

The compilation is available as a free download at the site below. 
It may be of interest to you:

Link: excentrica.org

Artwork is also available.



Friday, June 13, 2008

Those wishing to acquire the new Russian edition of the diaries Martyrolog have undoubtedly discovered how elusive this book can be (it sold out at Ozon.ru in one day, for example). Fortunately — as the Tarkovsky Institute in Italy informs us — about 500 copies are still available. They can be sent worldwide and the price is € 40 + shipping. To order, please contact:
Andrei Tarkovsky International Institute
via San Niccolò, 91
50125 Florence
Italy

e-mail: info@tarkovskij.com
The Institute will then provide the necessary money transfer information. Italian customers can use the "contrassegno" payment.

Our quick look at this edition can be found here.




Thursday, May 1, 2008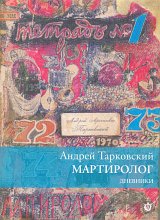 The April 2008 news update from Les Amis de l'Institut Andreï Tarkovski can be found here [PDF format].
The Russian edition of Martyrolog (Tarkovsky's diaries) has finally landed on our desk and we are preparing a review. In the meantime, here is an interview with Andrei Tarkovsky Jr. at Radio Kultura [Russian]. Some important items:
One reason for the delay of the Russian edition was the Tarkovsky Foundation's wish to publish it complete, with all drawings and images included. That's about 700 pages and there was no money to do it right until now,
The edition turned out very demanding from the editorial point of view,
There will be more printings of the book if the first one sells out,
The Tarkovsky archive will be made accessible to "anyone interested". The entire archive (which combines the Italian, French, and other archives) is in Florence under the care of Italian Ministry of Culture. It is currently being scanned. It is Tarkovsky Foundation's wish to make the entire archive available in Russia in digital form,
Further publications are planned: Sculpting in Time, then a screenplay collection as well as the work diaries (presumably for Mirror and Stalker).
Among many pleasures of running a web site like this are the e-mails we receive. They provide insight into events of the past which would be very hard to obtain in any other "systematic" way. The Internet serendipity is the key! Here is one example of an interesting postscript to Tarkovsky's trip to the 1983 Telluride film festival. On our The 1983 American Visit page there is a reference to a filmmaker from the Philippines. The same trip is described by Olga Surkova in her book Tarkovsky and I. Diary of a Girl Scout:

Everything went exactly according to Tom's plan. First we all met in
Las Vegas, including Krzysztof Zanussi who not only went with us on this
remarkable journey but also became Andrei's friend, conversation partner,
guide, and translator. [...]

We took off in two cars, a Jeep and one typical American comfortable sedan
in which they put both Tarkovskys and myself, and which Tom drove at first.
Soon, however, he got tired of our Russian babbling and quite sensibly
decided it would be more fun for everyone if he switched places with Zanussi,
whom we joyfully received in our bear hugs. Tom reunited in the Jeep with
three American screenwriters — one of which called herself "the last
American hippie" — also on festival's invitation, and with a film
director from the Philippines who was coming with them. And a bit
later we were joined by the third car with a Chinese director and his
wife, and also, if I remember correctly, another couple from Israel.


Olga Surkova writes that Zanussi turned out to be a great partner for Tarkovsky and she listened to them with great pleasure while travelling through Monument Valley:

Zanussi knew everything: from history and customs of every Indian tribe
to the type of meat used for making hamburgers. [...]

[Tarkovsky:] But listen, Americans are really strange... To have under your
nose this sort of landscape and never being able to photograph it properly?!
Well? Ford? "Stagecoach"? No. In the end it's just a western and he shot it
in those places! What deafness! What vulgarity! No, this is such an astonishing
lack of the sense of vision and hearing, isn't it? [...] Here one ought to film
the Ghost appearing to Hamlet.


Two photos from Olga Surkova's book: Image 1 (from L to R: Andrei Tarkovsky, Olga Surkova, Krzysztof Zanussi, Larissa Tarkovskaya), Image 2 (Andrei, Larissa, Marco Bellocchio).
And here is the e-mail we received on April 19, 2008:

Dear Nostalghia.com, 

I am a film critic from the Philippines and a faithful follower of your 
great work at Nostalghia.com (you have many readers here among my friends). 
I just thought I would pass on this link.

The stills are from a film called Bakit Dilaw ang Gitna ng Bahaghari (English 
title: Why  is Yellow the Middle of the Rainbow), sometimes known as I Am 
Furious... Yellow, by Filipino filmmaker Kidlat Tahimik. Kidlat is best known 
for his first feature, Perfumed Nightmare (1977), which won the Critic's Prize 
in Berlin and was distributed in the US by Francis Ford Coppola's Zoetrope.

Kidlat often compiles and collects footage, shooting without a script and 
without synch sound, dubbing in lines and putting the story together concretely 
on the editing table; often changing the context of the images to suit his fancy. 
According to Kidlat, the footage of Tarkovsky from the link above was taken in 
the US on the way to the Telluride Film Festival in 1983.

Telluride would commonly bring together a few filmmakers on a road trip before 
the festival, and he and Tarkovsky happened to be together on this one. He didn't 
know of Tarkovsky's grand stature in the filmmaking world at the time (he found 
out soon later), and simply saw him as a quiet and gentle filmmaker from Russia. 
They didn't communicate much, Kidlat said, but he did shoot some footage of him 
and put it in his film, referring to Tarkovsky in it as "the seeker".

Tarkovsky has an extremely strong fan base here in the Philippines, which includes 
filmmakers such as Lav Diaz, Raya Martin and Sherad Anthony Sanchez. Raya was, at 
one point, looking into undertaking a project with Ed Piano, a former teacher of 
his at the University of the Philippines who studied in Russia and is a fellow 
Tarkovskyite, a project looking into Tarkovsky's influence on, or connections with, 
filmmakers from the Philippines; ex. Filipino filmmaker Lino Brocka was a member of 
the Jury in 1986 that awarded the Sacrifice the Grand Prix Spécial du Jury. 

We don't have a Philippine Tarkovsky society, yet, but it is a grand dream (grand 
because of rental and shipping costs of the prints) of a few friends and I to put 
together a Tarkovsky retrospective here someday.

Warm regards,
Alexis A. Tioseco



Site visitor Taimo Joots from Estonia provided us with the following brief translation of an article which appeared in the April 25 edition of the Estonian newspaper Eesti Päevaleht:

Company Rotermann City,  which is developing the Rotermann district
in Tallin, wishes to give the name "Stalker's Way" to a street in honour
to the great movie that was partly shot in that area.

"We want to keep the "Stalker's" spirit, because part of the movie was
shot here," marketing manager of the company Marika Mäsak says.
The City Government will say its decision at the end of May, when
next meeting of name-committee will be held. The street as well as the
whole area is planned to be car-free.

In addition, Bernard Beck provided us with this link.
We saw this article and thought of Andrei Rublov.

Wednesday, April 16, 2008

We are pleased to present a new, fascinating article by Mark Le Fanu and Sally Laird: The Tarkovsky Family Background.
Tarkovsky (Nathan Dunne, ed.) was the Book of the Month in the May issue of Sight & Sound, which also carried a long review. The Times provided a review of the book (as well as of Robert Bird's book) this past Saturday. There are also some comments in the Scottish periodical The List.
The full program of the Tarkovsky Tate event can be seen here. A very interesting list of speakers has been confirmed, and we are told that tickets are selling fast.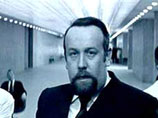 We regret to inform you that Aleksandr Misharin died in Moscow on Sunday April 13. He was born on April 6, 1939. A Russian news item may be found here. Thanks to Eugene Starostin of London, England for the pointer. Aleksandr Misharin worked together with Tarkovsky on the script of Mirror. He had a cameo in Solaris and can be spotted as the doctor at the end of Mirror. There is an excellent 33-minute interview with Misharin on the Artificial Eye Mirror DVD (RusCiCo). He was a Gentleman with class — may he rest in peace.
We recently posted a brief Tarkovsky/Abbado related clip on youtube. Claudio Abbado turns 75 this year. There is another interesting Tarkovsky related item here.
The publisher's note on the new Russian Martyrolog mentions some of the publications that are going to follow: Sculpting in Time and then — among others — the Work Diaries. We have been aware of, and longing to read, the Stalker work diary ever since we (8 years ago) read the May 26, 1980 entry in the Polish extended version of Martyrolog (not included in the English edition): "May 26, Monday: I must start another diary to write down everything pertaining to my work. Just as I did with Mirror and Stalker." The Mirror Work Diary has been published in a stunning, and now much sought-after, Japanese edition which faithfully reproduced Tarkovsky's own diary "layout". It has also been published in German, translated by Kurt Baudisch and Ute Spengler (Verlag Ullstein, 1993). Though facsimiles of a few diary pages are provided, the German edition made no attempt at reproducing the original look & feel of Tarkovsky's original diary: [ example i | example ii | example iii ]. Let's hope the Russians try to outdo the Japanese with their upcoming Work Diary releases...
Michal Petricek recently related to us the interesting history of the first Czech translation of the Martyrolog: "It was made by Marek Seckar in 1997 from a French translation(!) of the book. Well, on one hand, he did a lot of work and many Tarkovsky's admirers in the Czech Republic have been grateful to him (including me, of course), on the other hand, his work has many serious imperfections. You can imagine, a translation of another translation... It's risky, to put it mildly. Mrs. Galina Kopaneva was really furious with the work and wrote a list of errors of the translation in a special 8 pages long article in the journal Film a doba in 1998." (Our readers may recall that we had our reservations with regards to the completeness of the French "definitive" edition; we will provide a similar assessment of the new Russian edition)


We have had the chance to take a first-hand look at the new Czech release of The Sacrifice (Zona-Aerofilms, 2008). This is a 2-disk set which includes as bonus materials Michal Leszczylowski's documentary, the documentary Sätta Ljus, (Lighting), as well as text biographies. Czech subtitles can be turned off, and the DVDs are PAL, Region 0 (i.e., no region coding). We compare it to the Spanish Collector's Edition, which currently may be considered the "Gold Standard" as far as The Sacrifice DVD releases are concerned. The main feature sports wonderful image quality, identical to what is seen in both the Spanish release and in SFI's own DVD release, with very natural skin tones. Differences in image quality between the Spanish release and the Czech release are non existent: [ Spanish | Czech ]. The release avoids all the problems associated with some earlier releases: [ example i | example ii | example iii ]. The Image quality seen in the Michal Leszczylowski documentary is identical to that of the Spanish release as well (the best available to date). The presence of the priceless documentary Sätta Ljus — which appears to be below the radar beam of every major DVD production company (who understandably enough don't have the resources to follow Nostalghia.com on a regular basis) — always bears witness to the fact that there are real Tarkovsky devotees behind the production of the DVD. In the case of the Spanish release, it was the always enthusiastic Gonzalo Blasco. In the case of this Czech release, it is the equally enthusiastic Petr Gajdosik and Petr Soukup. Kudos to these guys!! The image quality on this documentary is identical to that of the version appearing on the Spanish release, except for a minor problem with the original beta tape resulting in synchronization problems at the very bottom of the frame throughout, not seen in the Spanish release. More information about the Czech release here. Purchase link, here.
The following note just in from site visitor Taimo Joots of Estonia:

Hello,

In a posting from year 2006 you asked for translation of an Estonian webpage. 
I will try to give you a little overview about it. This is a website
of Estonian version of geocaching game. For those who don't know, it's
a game of seeking hidden "treasures" or "caches" with GPS device. As
an honour to the great film and great director a geocache was hidden into a 
tube under the building of hydroelectrical plant, where "Stalker" was shot.

The hiders say, that an amateur movie was being shot on the same location when
they arrived. These filmmakers didn't know that "Stalker" was filmed there. 
More images of the cache-hiding-trip can be seen here.

In January 2006 the cache was gone and the renovation of the hydroelectric power
station started. Some photos from this time can be seen here. As the building 
was not suitable for a cache any more, a new geocache was hidden a little further
from that location. The new cache is called "Tarkovski is dead, long live
Tarkovski!". See here and here.

A friend of mine visited the location again last weekend. The renovation work
has been stopped and the building of the hydroelectrical station stays abandoned
again. Some images here. We should give the owners idea to make the place 
tourist attraction for Stalker fans instead of working hydroelectrical station.

I would also like to say a few words about the legend of poisonous
water of the Jägala river, that caused cancer and deaths for members
of the film crew. There was and still is a paper plant about 20km
upstreams in Kehra. It's waste-water makes the river foam and the air
smells quite bad depending on the wind direction. A waterfall near the
shooting location makes also foam on the surface of water. But there
is no way the water could be poisonous enough to cause cancer.
Otherwise the population downstreams must be dead long ago.

Regards,

Taimo
from Estonia


Saturday, March 29, 2008


The book Tarkovsky, edited by Nathan Dunne, is hitting the shelves as we speak. The book is featured in The Independent as one of The Ten Best Film Books. The Creative Review website features an excerpt. The Telegraph has posted a special picture gallery. The book is available via amazon. Please also consider joining Nathan Dunnes excellent Tarkovsky group on facebook, for updates on related Tarkovsky events in the U.K.
The Art of Andrei Tarkovsky, a symposium examining Andrei Tarkovsky's films in the context of contemporary art, is set to take place on Friday May 9th. Additional details and a complete programme may be found on the Tate Modern website.
There's yet another interesting conference on May 10th, at Queen Mary College in London. Details here.
Robert Bird is organizing a small symposium dedicated in large part to Tarkovsky's 1983 production of Boris Godunov. The symposium, Performance and Mediation: At the Interstices of Opera and Film, takes place at The University of Chicago on May 3rd, 2008. Here is a preliminary program [PDF].


A copy of Robert Bird's book Andrei Tarkovsky: Elements of Cinema has landed on newsdesk. Beautifully illustrated, and printed on high-quality glossy paper, this book is highly recommended for all those who love the works of Andrei Tarkovsky and are interested in an analytical approach to the poetics of his films. The book is available at amazon.ca, at 35% off. Also available through amazon.com, amazon.co.uk, etc.
The Danish company Another World Entertainment released five Tarkovsky titles on March 10th. They are all RusCiCo transfers. Details here. Thanks to Nicolai Fentz of Denmark for the update!
More on the launch of the first Russian edition of Martyrolog here [Russian]. See also our February 3 update. More information here. We have still not succeeded in obtaining a copy. A friend with contacts in St. Petersburg writes, "Tarkovsky's book has been delayed to arrive at the stores and [...] everyone is asking for a copy, it [appears] that people are buying it right from the printer's before it even gets to the stores!". (Quite reminiscent of the Communist days, no?)
We regret to inform you that Sofiko Chiaureli (Sayat Nova) recently passed away. Some kind soul posted a small memorial on youtube.
We have just received one of the Chris Marker DVDs from Wexner Center, and it confirms that One Day in the Life of Andre Arsenevich is forthcoming...
There is a documentary about Tarkovsky and Paradjanov on Kino's new Paradjanov box set. For details, see the DVDBeaver review. Thanks to Eric Levy of Chicago for the pointer.
More about the above mentioned documentary in the following note from site visitor Tony Partridge. We welcome additional information on this documentary from our readers.


Dear Jan and Trond,

After many years searching I finally managed to get a copy of Paradjanov's
"Shadows of Forgotten Ancestors" on DVD, a version made by Kino in 2007. As a
special feature on this DVD I found a documentary called "Andrei Tarkovsky and
Sergei Paradjanov - Islands" that contains some very interesting interviews with
Alexander Antipenko, Inna Gens, Kora Tserateli and Levon Grigoryan. I don't know
if you know about this documentary so I thought it worthwhile contacting you about it.

I am unsure who made the documentary (the subtitles list the film crew as Levon
Grigoryan and a list of others, the DVD box says the documentary was made in
2003, but at the end of the documentary the year 2002 is quoted). It is very
difficult to work out who is who in the documentary, but many of the anecdotes
and comments quoted are fascinating and new to me. For one quotation alone it is
worth watching the documentary: one of the men say, "I first heard of Andrei
Tarkovsky in Paradzhanov's house. It was the time when the film Ivan's Childhood
came to Kiev. Sergey Grigoryevich said that today he would admit into his house
only those who had seen Tarkovsky's Ivan's Childhood." 

There are many other quotes about the relationship between Tarkovsky and
Paradjanov and the documentary is then interspersed with clips from the films of
each, clips that often contrast their mutual depictions of, say, water or
horses. 

Thanking you for your time and attention, I remain,

Yours sincerely,

Tony Partridge


A

nother Parajanov DVD set has recently appeared on Ozon: Part 1 and Part 2. Nostalghia.cz has a review.

Ok, how about a wonderful 2000 x 6000 pixel Solaris poster [5 MB], courtesy of site visitor Guido Gräsel of Germany? Thanks, Guido! The poster will be added to our Posters section upon next update.

Those of our readers who appreciate Tarkovsky and Sokurov may also appreciate Italian director Manuele Cecconello's stunning Olga and Time, which won the prize for "Best Long Documentary" at the VII International Documentary Film Festival "FLAHERTIANA-2007". We received a screener DVD of the film here at newsdesk last year, and urge you to, if at all possible, catch the April 5 screening at The British Museum. Details here.

We received the following note from Petr at sister-site nostalghia.cz:

Dear Trond,

today, I wrote a Czech review of new book on spiritual cinematography by
Jaromir Blazejovsky. The review is found here
 
It's a very interesting look at spiritual cinema, also about Dreyer, Bresson,
Tarkovsky, Ozu, Sokurov, Zvyagintsev and other world directors, 
as well as Czech directors (Vlacil, Zabransky, Tyc). 

Here is an English summary [PDF].

 
Best regards,

Petr



P.S.: Petr of nostalghia.cz has also posted a travel log from his summer road trip across some relevant parts of Russia: part i | part ii.

Saturday, February 9, 2008


Our readers might be interested in a recent issue of the Italian journal Materiali di Estetica (no. 13), which is devoted entirely to Tarkovsky. The volume contains 13 articles, of which two are in English — one by Robert Bird and one by Daniel Kieckhefer (both of University of Chicago). The other articles are in Italian. (Bird's and Kieckhefer's excellent papers are published in both languages.) The issue is dated December 2006 but it actually came out July 2007. The publisher is Librerie CUEM, and the journal may be purchased from, e.g., libreriauniversitaria.it (here).

Sunday, February 3, 2008

Dr. Robert Bird reports that his upcoming book, Elements of Cinema, has been slightly delayed but should be out in late February. In the meantime, MK2 et al. is releasing a French translation of his indispensable little volume on Andrei Rublev. The release will be marked on February 5th by an event in Paris.
The documentary film The Mystery of Andrei Rublev recently aired on Russian satellite TV channels. Michal Petricek sent us two snippets from the documentary: [ clip 1 | clip 2 ]. Clip 1 speaks about the original author of the basic idea of shooting film about Andrei Rublev, Vasili Livanov. The documentary is, according to Michal, very interesting, in that it reveals several heretofore unknown facts about the circumstances surrounding the production of Andrei Rublev. [UPDATED: Thanks to Marcis Berzins for correcting Mr. Livanov's name for us].


Further to our December 10 update, the cover art for the first Russian edition of Martyrolog (limited to 5,000 copies) can be seen here. Very nice, indeed! Nowhere to be found on ozon.ru,... could some of our Russian friends snag us a couple of copies for our archives, please (reimbursement by PayPal)?
Pascal Vandelanoitte of Belgium informs us that an article he wrote was published in Perspectives on European Film and History last autumn. Says Pascal, "In my article, I demonstrate that a deeper knowledge about early Russian history helps to understand Andrei Rublev on a historical level as well, and that in the movie, the historical level about the early birth of a unified Russia and the personal story about Rublev's catharsis are beautifully intertwined and reinforce each other."
Site reader Dan Jones recently completed his Ohio University Ph.D. dissertation on Andrei Tarkovsky's films and philosophy. The dissertation may be accessed online, through this link.
Many, many thanks to the kind anonymous soul from Norway who sent me Nuri Bilge Ceylan's Distant (Uzak), as well as Pirjo Honkasalo's The 3 Rooms of Melancholia. Most of our readers will already be aware of Ceylan's film, and its Tarkovskyan connections. The 3 Rooms of Melancholia is perhaps a lesser-known masterpiece — absolutely unforgettable... comes highly recommended! —Trond.

Sunday, January 13, 2008


The Friends of the Tarkovski Institute has announced three concerts/multimedia performances featuring the François Couturier Quartet. The events, which take place on January 15, 16, and 17, are described in the Institute's most recent circular [PDF]. We also note that the François Couturier Quartet appeared on Deutchlandfunk's Jazz Live, on June 11, 2007. Listen to their performance of Nostalghia, taken from said radio broadcast (monaural). Also check out their excellent record on the ECM label, Nostalghia: Song for Tarkovski.


Mark Le Fanu recently contacted us, asking whether we would be interested in publishing an essay he wrote after interviewing Vadim Yusov (left) in London late last year. The interview, which provides us with a number of fascinating new insights into the making of Andrei Rublev, is located here — a Nostalghia.com exclusive.
Black Dog Publishing are set to release Tarkovsky next month, a comprehensive new collection of what appears to be eminently readable essays on Andrei Tarkovsky from some of our favorite academics. For further information on the book, check out the publisher's website.
A new Polish edition of Sculpting in Time has just been released. Translation is by our longtime collaborator in Poland, Dr. Seweryn Kuśmierczyk. Details here. Cover art here [PDF].
Tarkovsky's The Mirror will be screened at the Tromsø International Film Festival as a part of their 100 ÅR MED RUSSISK FILM program. The festival runs from January 15–20. Screening times for individual films will appear on their website. Thanks to Alex Muller of Portland, Oregon for the heads-up.
We received the following note from site visitor Tony Partridge in Ireland.

Dear Jan and Trond,

I though you should know that in the October 2007 issue of Sight and Sound (page 8) 
there is an article  called "Making the ruins speak" by Brian Dillon which is about 
artist Jeremy Millar's 'Mirror-Time' art work based on Tarkovsky's Zone from Stalker. 

Then, in the January 2008 issue of the same magazine (page 10) there is an article 
called  "The long road to freedom" by Ian Christie that is ostensibly an introduction 
to the Tarkovsky  festival at the Curzon mayfair cinema in London and an exhibition 
of Tarkovsky's polaroids at the  White Space Gallery in London. However, the article 
is much more than this. It is essentially a meditation on 'freedom' and Tarkovsky.

All the best,

Tony Partridge,
Sligo, Ireland.


The following just in from Daniel Graham of Artificial Eye.

Dear Trond,
 
I'm very pleased to inform you that the Tarkovsky Festival at the Curzon Mayfair 
Cinema from 7-13 Dec was extremely successful with near record attendances for a 
festival of this kind. Many of the screenings of his films were practically sell 
out performances. THE SACRIFICE re-issue (7 Dec), distributed by Artificial Eye 
on a brand new 35mm print, continues at the Renoir Cinema in London from today 
and goes around the UK at many of the most prominent art house cinemas well into 
next year.
 
www.artificial-eye.com
http://www.curzoncinemas.com/flash/#main
 
Kind Regards
 
Daniel Graham
Artificial Eye - Film Booking Manager
Tel: 0207 438 9525
 

There are two photos in our Photos section featuring a mirror effect: Arseni and Andrei. Vlad Baranov wrote to tell us that there is an article about the photographer — Tarkovsky's godfather, Lev Gornong — and his photos, here.
Site visitor Bryan Rodrigues pointed us to this interesting article in the Telegraph.
There is an interview with Layla Alexander Garrett by Jaap Mees here. Thanks to Conrad Steeves for the pointer. See also Layla's own piece, on Nostalghia.com
Regular contributor Bernie Beck of El Sobrante, sent us this link to an article about Arseny Tarkovsky's 2007 centenary.
We received the following note from Randolf Smeets.

Hello there,

just wanted you to know that I've made several music pieces of Tarkovski's films. These
pieces are all made from the original music, sounds and spoken material used in his films,
in chronological order. So far I've made three pieces: Stalker, Ivanovo Detstvo and Offret.
These are all about 20-minutes long. Now I'm working on The Mirror. On myspace.com/forandrei,
you can find several 7-9 minutes examples of these three pieces. Just have a listen and I would
be delighted of you'd inform me what you think of it. Thanks for your time.

Randolf Smeets (aka The Phlod-Nar)

Contact:
Aurora 218
6412 GL
Heerlen
The Netherlands
0031 (0)6 - 305 042 39
rozza_quaot(at)hotmail.com


*** Disclaimer: this update done from Kona, Hawaii, via spotty internet uplink. Hopefully not too many dead links in the above. — Trond



©2004 www.nostalghia.com
All Rights Reserved